Keto Activate
Dark Chocolate Truffle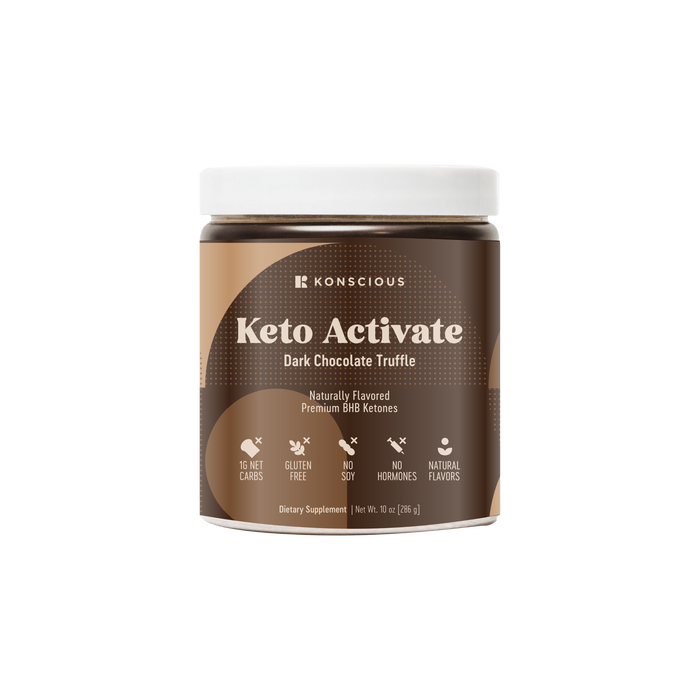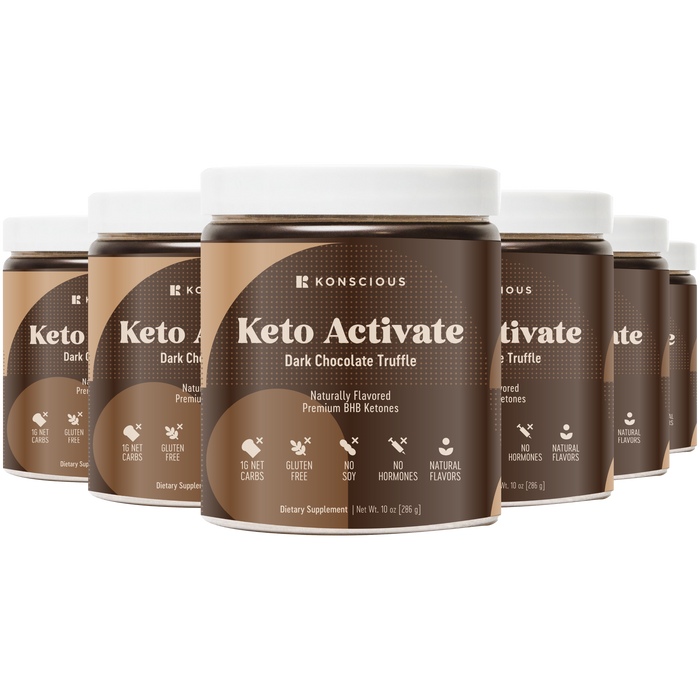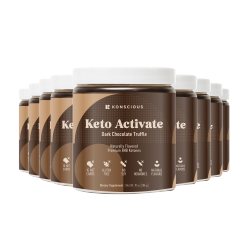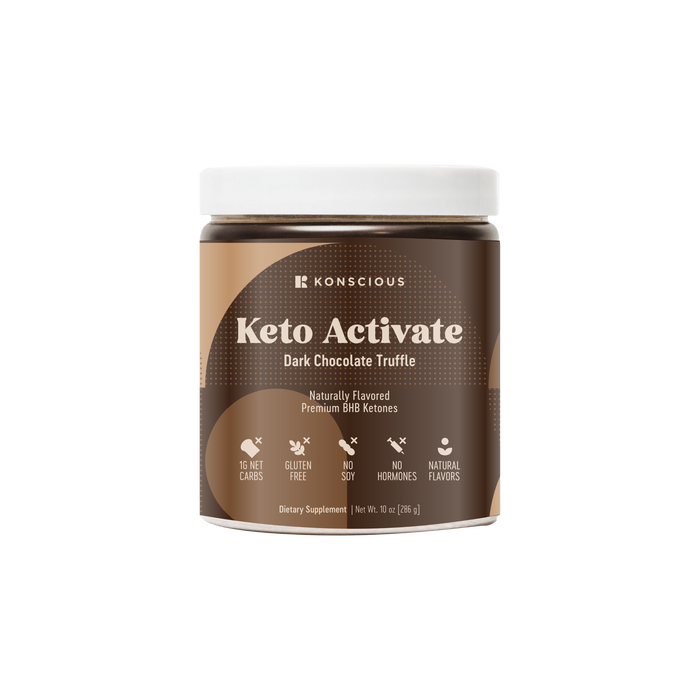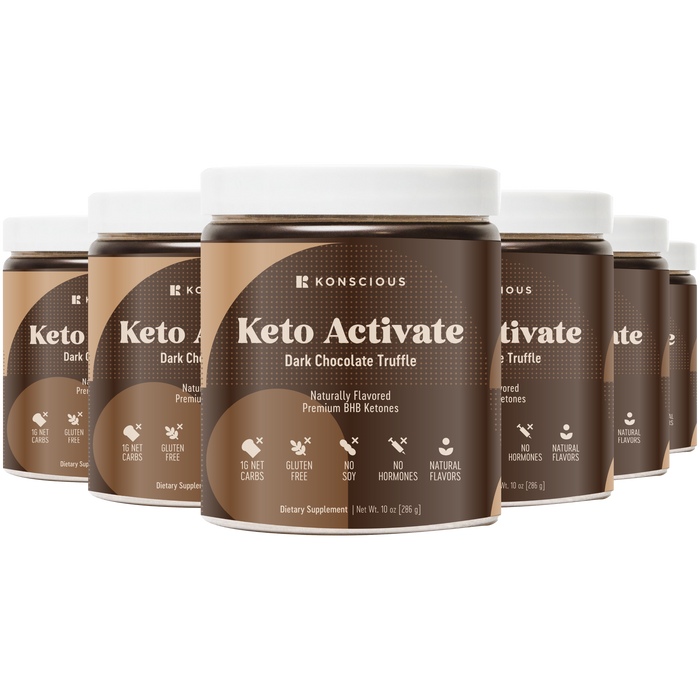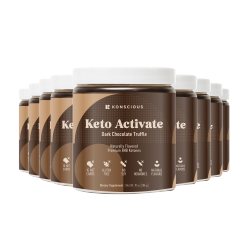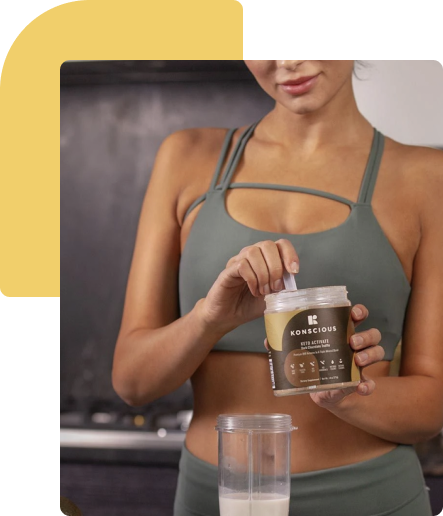 Supplement facts
Serving size: 1 scoop (9.53g)
Servings per container: 30
Magnesium D-β-Hydroxybutyrate, Calcium D-β-Hydroxybutyrate
*Percent Daily Values are based on a 2000 calorie diet.
**Daily Value [DV] not established.
Other Ingredients: Natural Chocolate Flavor, Medium Chain Triglycerides Oil Powder, Cocoa Powder, Natural Vanilla Flavor, Sarsaparilla Extract [Smilax china][root], Stevia Extract[leaf], Monk Fruit Extract
More Info +
Less Info -
Designed to support a ketogenic diet which promotes
What's In KETO ACTIVATE?
1G NET CARBS & 15 CALORIES PER SERVING
Frequently asked questions
What Makes Keto Activate Different?

We designed Keto Activate to taste great and only include the highest-quality ingredients. We wanted Keto Activate to be something you enjoy so much that you look forward to each day. That's why many of our customers love mixing it with their morning smoothie or coffee. Each serving of Keto Activate contains our scientifically developed D-Beta-Hydroxybutyrate (D-BHB) ketones that help put your body in ketosis, as well as our proprietary double-blend of minerals needed to help support ketosis.

What's in Keto Activate?

Keto Activate contains D-Beta-Hydroxybutyrate (D-BHB) ketones that are important to receiving the full benefits of ketosis. These are the same ketones your body naturally makes. Keto Activate also contains a trifecta of essential minerals. It's the perfect blend to enhance your body's ability to be in ketosis while you feel energized going about your day.

And, you can take Keto Activate at almost any time of the day.

We recommend having a serving in the morning, right before you workout or even after your workout to support the fat-burning process. Some customers also have Keto Activate before a big meeting, for laser-focused energy, or enjoy as an afternoon pick-me-up.



What's the Difference Between Low Carb and Keto?

Usually, with a low carb diet, you're eating mostly protein with a moderate amount of fat and low carbohydrates. There's no emphasis on eating energy-giving, mood-boosting fats. With the keto diet, you're focusing on changing your metabolism to enter a new state – one that burns fat for energy.

You could say that keto is a more precise and effective diet with the weight loss benefits of a low carb diet. Keto produces a multitude of health benefits over a low carb diet.

You see, once you reach ketosis and your metabolism switches to burning fats for fuel, your body begins to release an almost unlimited supply of ketones.

Being in ketosis has positive effects on everything from your brain to your heart, and even your skin. If you're only doing low carb, you're missing out on a lot.

How Long Does it Take to Get into Ketosis?

Getting into ketosis can take anywhere from three days to a week depending on how much stored carbohydrates (glycogen) you have in your body and how much you exercise.

If you've never changed your eating habits, are overweight and not working out much, it could take up to 4-6 weeks to get into ketosis… And we won't lie, it can feel pretty rough. Keto Activate can help make this transition easier.

Is Konscious Keto Activate Gluten-Free/Vegan/Dairy-Free?

Yes. Keto Activate is vegan-friendly, gluten-free, and dairy free. There are no artificial flavors or colors. That's why you can always be sure the Konscious brand always has your best interests in mind. Keto Activate is not only good for your body but for the environment as well.

How do I use Keto Activate?

We recommend you have at least one serving of Keto Activate per day to ensure your body is in ketosis. Usually, our customers have a serving in the morning to kickstart ketosis, while some of our customers also have a serving before their workouts for an extra boost in energy and endurance.

You could also take Keto Activate before a presentation, an important meeting or when you need to focus. Really, there are no bounds when it comes to Keto Activate and its many uses.

In fact, we have some customers going back to college who use Keto Activate to help them study at night. We even have moms take Keto Activate to help keep up with their little ones.