Keto Shake
Creamy Chocolate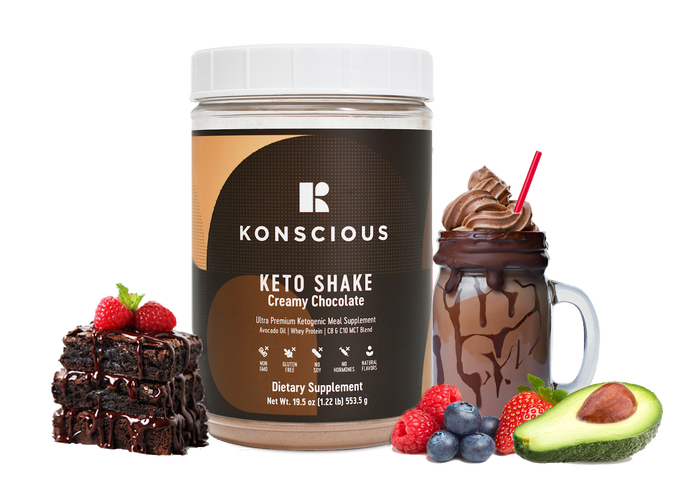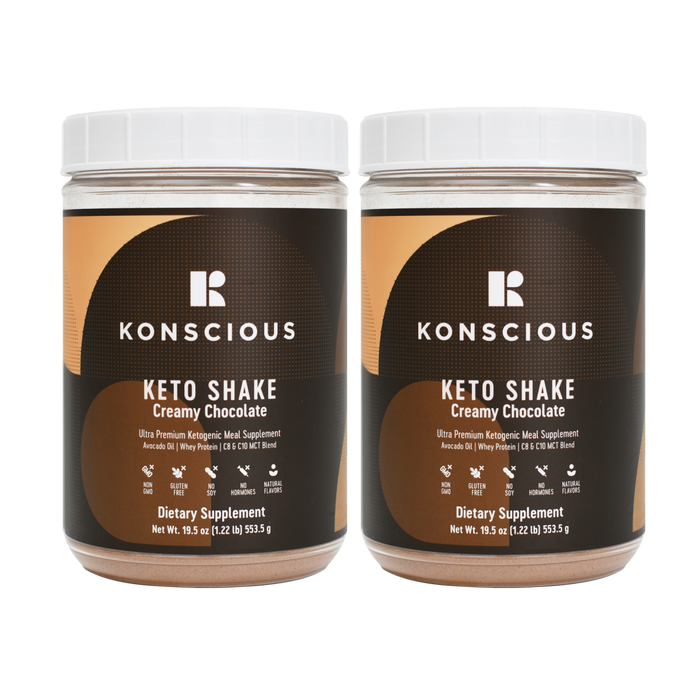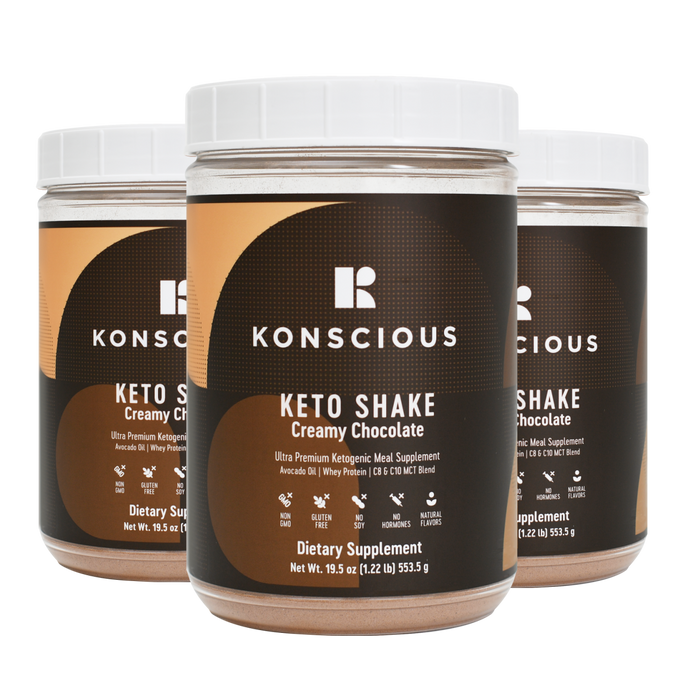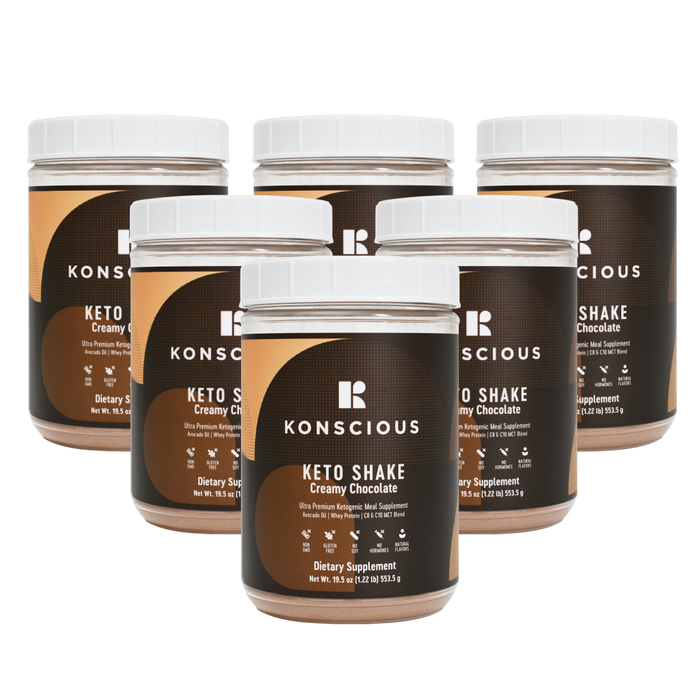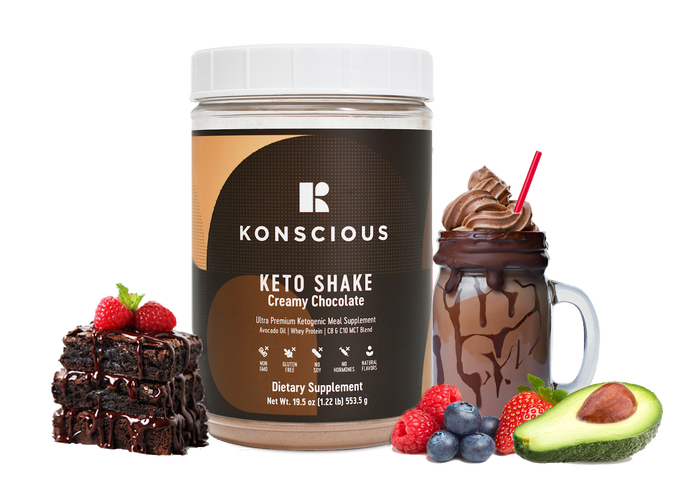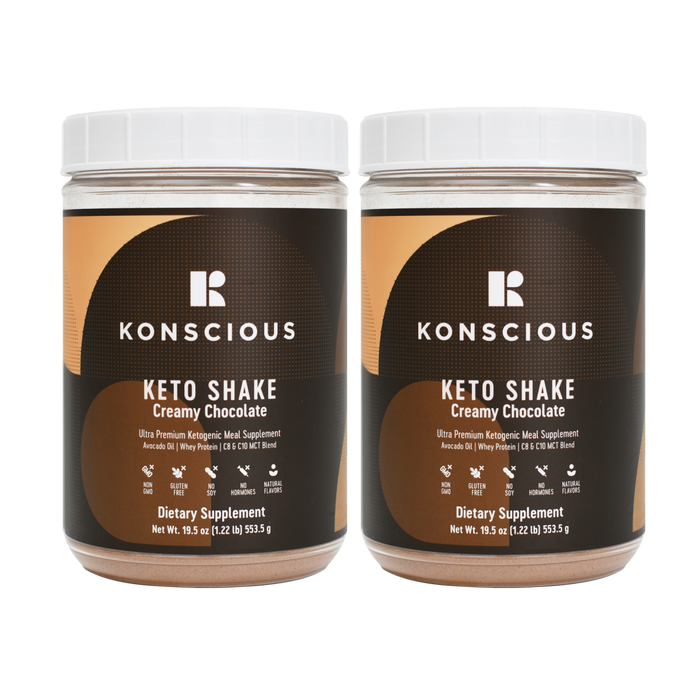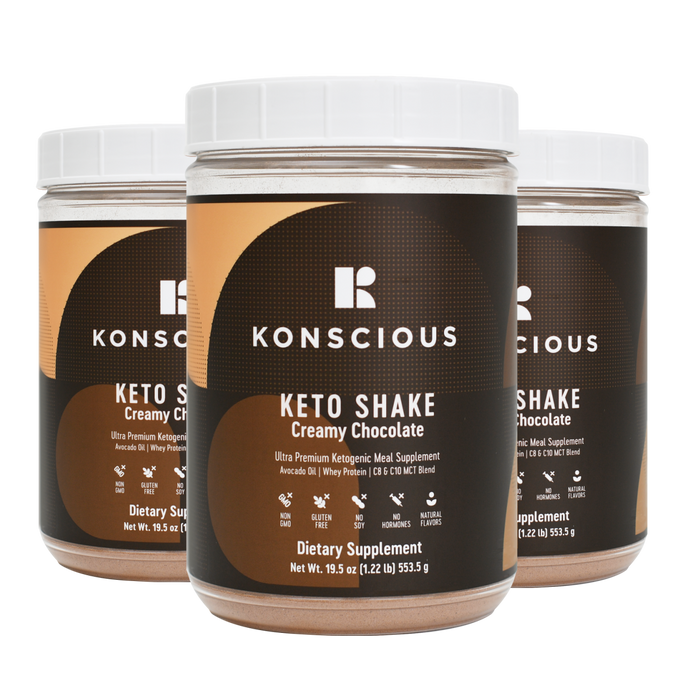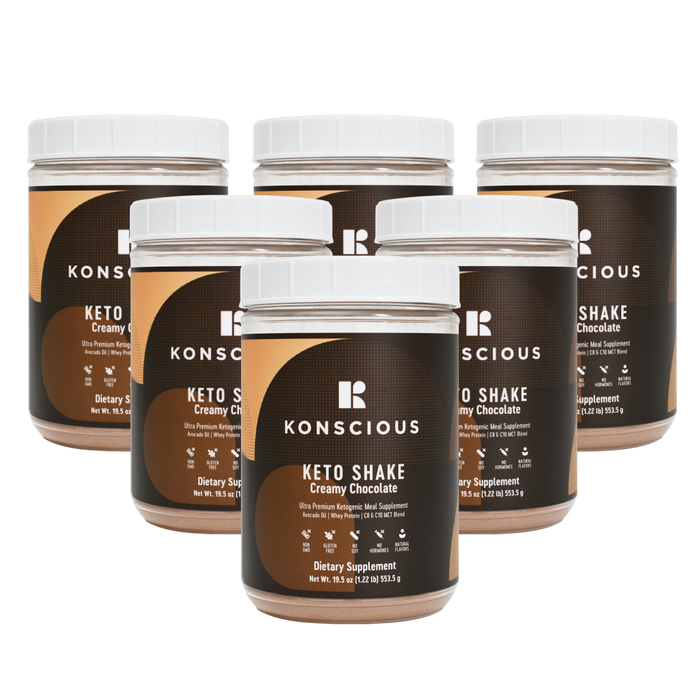 Supplement facts
Serving Size: 1 Scoop (36.9g)
Servings per container: 15
Medium chain triglycerides (70% MCT) powder,milk protein isolate, isomalto-oligosaccharide 90% powder, grass fed whey protein isolate with sunflower lecithin, blue agave inulin, avocado oil powder
*Percent Daily Values (DV) are based on a 2,000 calorie diet.
† Daily Value (DV) not established.
Other Ingredients: Cocoa, erythritol, natural chocolate flavor, sea salt, xanthan gum, rebaudioside A, and silica.
Contains: Milk
More Info +
Less Info -
Designed to support a ketogenic diet which promotes
The cleanest Keto shake on the market. What's in it?
Frequently asked questions
What Is Keto Shake?

Keto Shake is a delicious on-the-go meal supplement shake that tastes heavenly and is filled to the brim with essential nutrients your body will love.
‍
You might even feel like you're cheating when taking Keto Shake, because it tastes so sweet!

What Makes Keto Shake Different?

Keto Shake is one of the very few keto products on the market to include premium "energy-giving" fats like avocado oil, C8 & C10 (Caprylic Acid, Capric Acid) MCT oils. These fats metabolize more efficiently than common oils with C12 (Lauric Acid). MCT oils cannot be stored as body fat, and instead, convert to instant useable energy that fuels you throughout the day.
‍
Keto Shake also contains the prebiotic Inulin.
‍
Inulin has been shown to help curb cravings and optimize gut health.
‍
When you taste Keto Shake, you'll be very surprised at how good it tastes.
‍
In fact, many of our satisfied customers can't believe that something so healthy can taste so good. We use two natural, keto-friendly sweeteners in Keto Shake that give it that sweet taste.
‍
Keto Shake makes a wonderful fuel source for your body.
‍
Some of our happy customers have even described Keto Shake as healthy as a kale and avocado salad, but tastes like a creamy milkshake.

How Do I Take Keto Shake?

Keto Shake is quick, easy and convenient.
‍
Keto Shake makes a great base for a healthy smoothie. You can also blend Keto Shake with your favorite nut milk… Or keep it simple and just add water!
‍
Keto Shake makes eating healthy a delight!

When Should I Take Keto Shake?

Let's face it, life gets busy and it's tough trying to balance healthy eating when you're always on-the-go.
‍
Keto Shake gives you a complete meal any time of day.
‍
Wanna skip making breakfast and get a bit of extra snooze time? Keto Shake is a great way to start the day.
‍
Is your schedule jam-packed with meetings or mom-duties? Take Keto Shake for lunch.
‍
Too tired to cook dinner? Treat yourself to a mouth-watering Keto Shake instead.
‍
Got those late night cravings? Keto Shake will not only satisfy your sweet tooth but instantly curb your cravings… keeping you feeling full and satiated longer.
‍
Keto Shake is not only a delight to your taste buds but it also gives you more "me time" which you deserve.

How Does Keto Shake Taste?

We worked hard to create a nutritional shake that meets all your keto requirements, tastes like a sweet treat and doesn't contain any hidden sugars or nasty ingredients.
‍
"In order to give Keto Shake that sweet, dessert-like taste, we use stevia, a natural plant-based sweetener with zero calories.
‍
Extracted from the South American rainforests, Stevia will help delight your sweet tooth, and make a healthy treat you can enjoy anytime of the day."

What's In Keto Shake?

Keto Shake is super-clean and jam-packed with nutrient-dense superfoods. These include:
‍
Medium Chain Triglycerides (or MCT oils) a great fuel source for your body.
‍
Avocado Oil which has shown to be one of the healthiest oils on the planet.
‍
Whey protein which is not only nutrient dense but offers one of the most complete blend of branched-chain amino acids (BCAAs.)
‍
Inulin which is a great prebiotic and helps with gut health.
‍
Stevia a natural keto-approved sweetener that has proven health benefits. See studies

Is Konscious Keto Shake Gluten-Free/Non-GMO?

Keto Shake is gluten-free, non-GMO, contains no soy, no harmful hormones and uses all natural colors and flavors.