Free Spiced
'Eggnog' Smoothie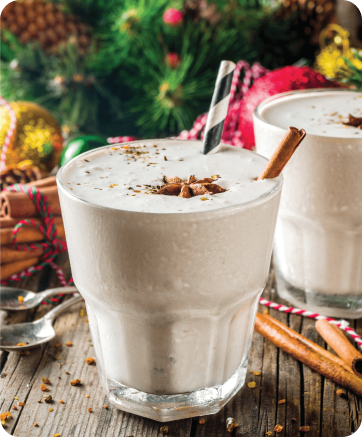 This smoothie has all the flavors of 'Eggnog' and can be used as a delicious treat during the holiday season. Top with a little keto whipped cream and a sprinkle of cinnamon for an extra indulgent treat!
Ingredients:
1 cup ice
2 tbsp heavy cream
1/4 tsp vanilla extract
1/4 tsp ground cinnamon
pinch of ground ginger
pinch of ground nutmeg
1 cup unsweetened, full-fat canned coconut milk
4-5 drops of stevia (optional)
1 tsp chopped almonds
Directions:
Add all ingredients to a Blender or Nutribullet, excluding chopped almonds, and process until smooth and creamy.
Pour into a glass, sprinkle over the reserved almonds and enjoy!
Tip:
You could use a keto 'Christmas Cake Spice' here instead of the separate spices.
If desired, top with keto whipped cream for a really festive treat!
Macros:
Fat: 49.2g | Total Carbs: 7.9g | Fiber: 1.3g | Sugar Alcohols: 0g | Net Carbs: 6.6g | Protein: 3.9g | Calories: 486
Additional Keto-Friendly Recipes & Resources