Free Sunday Morning Keto-Friendly Pancakes Recipe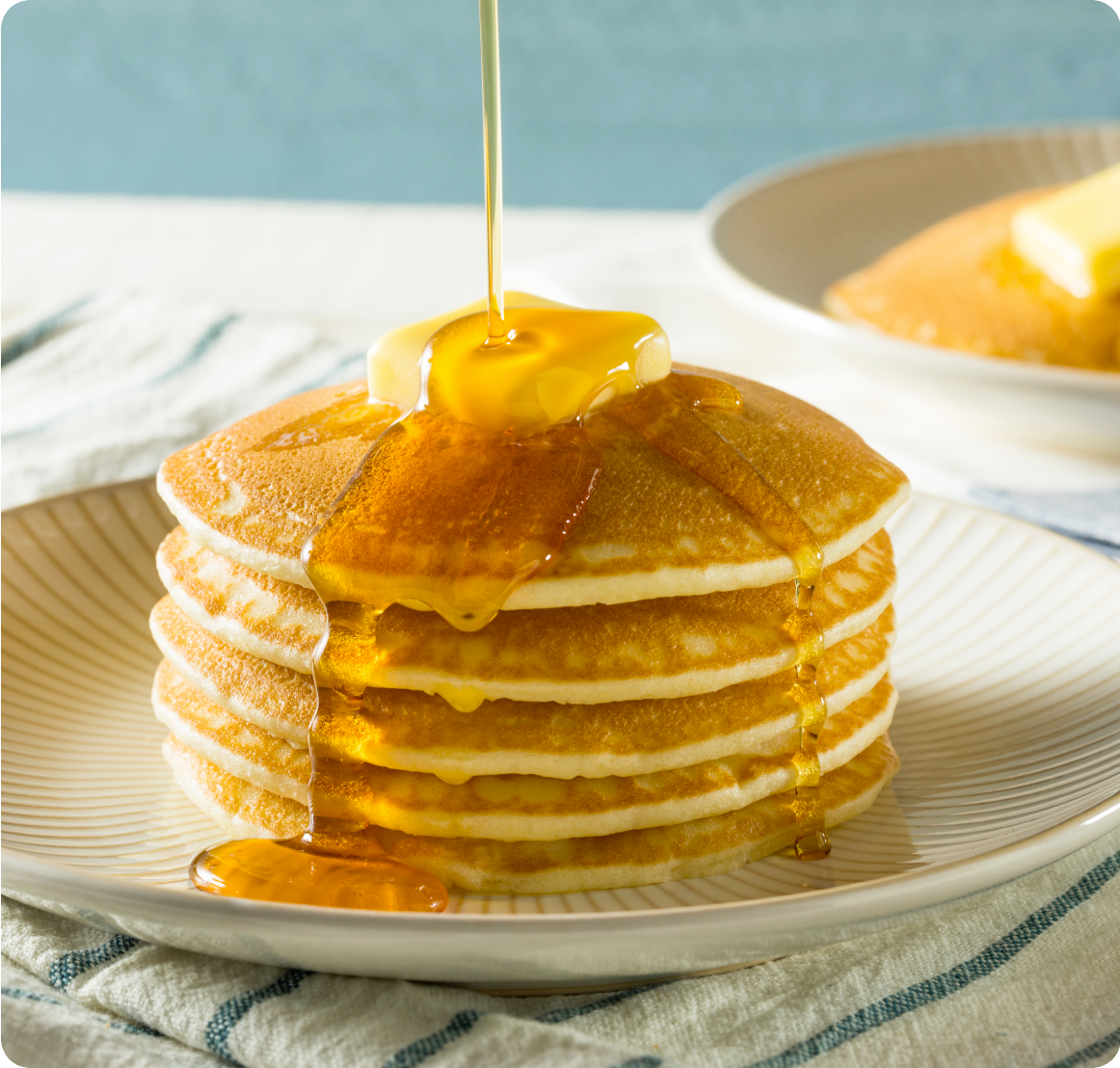 Pancakes are the ultimate pound-packing, comfort food...
But if you make this keto-friendly version below, you can enjoy them without the weight gain and instant cravings of their carb-filled counterparts...
And your entire family can enjoy them too since they taste even better than the "real thing."
Fat Stacks – Sunday Morning Pancakes
Ingredients:
4 eggs
4 oz cream cheese
1 tsp pure vanilla extract
½ cup almond flour
1 tbsp powdered erythritol
½ tsp of baking powder
Nonstick cooking spray or butter for greasing the pan
Optional for serving: butter, sugar-free maple syrup, keto whipped cream, berries
Directions:
Combine the eggs, cream cheese, vanilla, almond flour, and baking powder in a blender. Blend until you have a smooth batter. Then, let it sit for a few minutes.
Melt the butter or spray cooking spray in a medium frying pan. Heat over medium to medium-high heat. Once hot, pour a small amount of batter into the pan to form a pancake (about 3 - 4 inches in diameter). Pour another pancake, if you can fit it in the pan.
When the edges begin to firm and tiny holes or bubbles appear on the top of the pancakes, they are ready to flip. Carefully flip the pancakes using a spatula. Cook the other side for a minute or two, then remove to a plate.
Repeat steps 2 and 3 with the remaining batter. You should be able to make 6 pancakes from this batter.
Serve pancakes with butter and sugar-free maple syrup or other keto toppings, if desired.
Tips:
This recipe should yield 6 pancakes. One serving is 3 pancakes.
If you're looking for brand recommendations, we love Swerve brand erythritol, Anthony's Organic Almond flour, and Simply Organic pure vanilla extract.
Prep Time: 5 minutes
Cook Time: 10 minutes
Servings: 2
Nutrition per 3 pancakes: Fat: 43.5g | Total Carbs: 13.5g | Fiber: 3g | Sugar Alcohols: 4.5g | Net Carbs: 6g | Protein: 21g | Calories: 503
This recipe is just one example of how keto is like no other "diet"…
Because, unlike other diets, keto lets you feast on flavorful comfort foods to burn fat fast.
Anyway, enjoy!
And if you want another delicious way that can melt your midsection and treat your entire family's taste buds...
And remember...
Keto Activate is our #1 best-seller for a reason.
In fact...
Keto activate was designed to help put you into ketosis instantly and start reaping the following benefits:
Benefit #1 - Fat burning metabolism...
Benefit #2 - Less cravings...
Benefit #3 - And increased focus and concentration.
And this is just the tip of the iceberg.
Best part?
You have 30 days to try Keto Activate risk-free.
If you don't love it or for any reason whatsoever, just send it back.
We'll buy it back.