Free Autumn Morning
Pumpkin Pancakes Recipe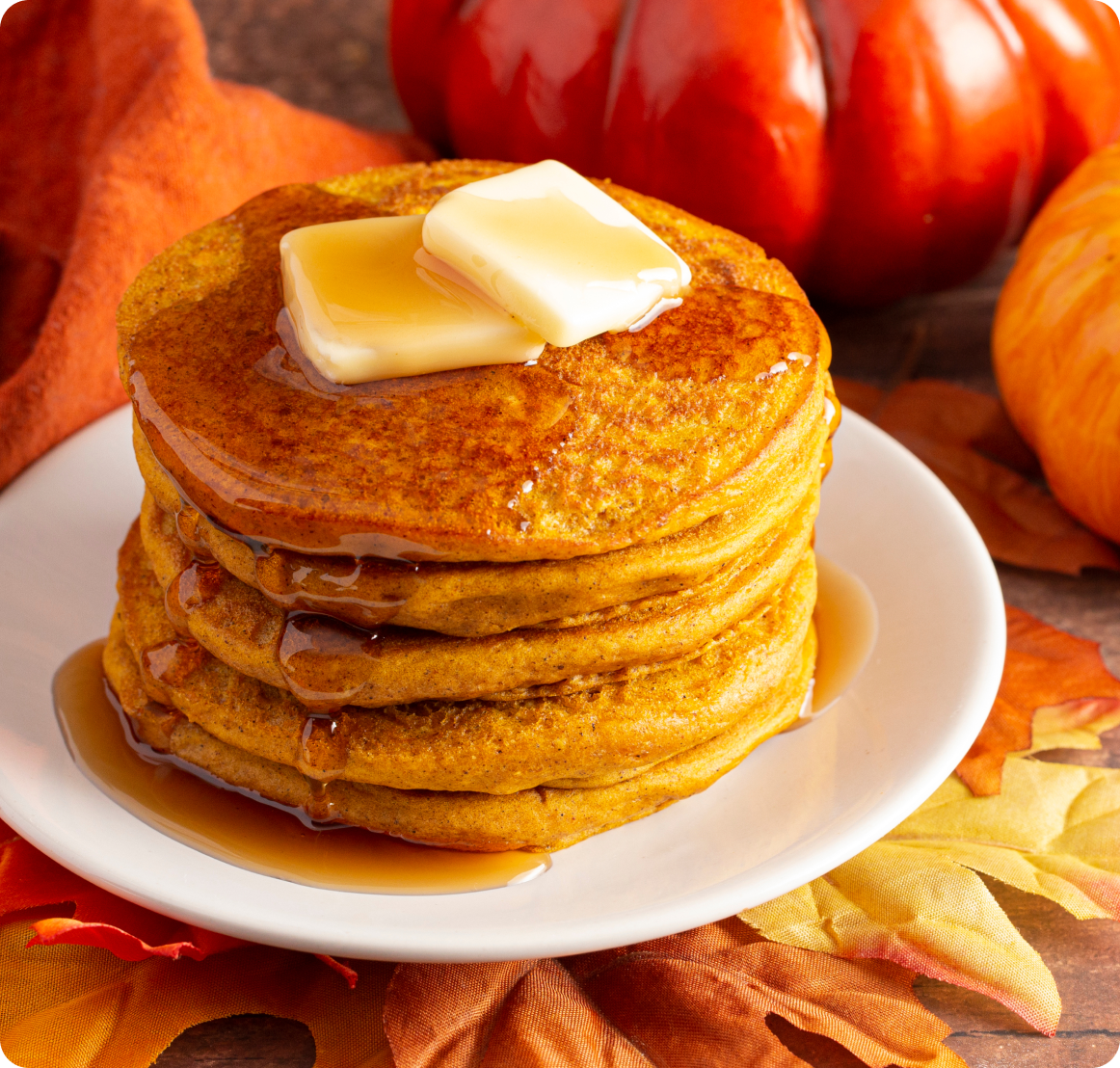 If you love pumpkin flavor, these pancakes will be your new favorite breakfast! Serve these tasty pancakes with all your favorite keto toppings, and maybe a cup of keto coffee!
Ingredients:
4 eggs
1 egg white
3 tbsp coconut flour
2 oz cream cheese, softened
1/4 cup pumpkin puree
2 tbsp powdered erythritol
2 tsp pumpkin pie spice
1/4 tsp cinnamon
2 tbsp butter, melted
1/2 tsp baking powder
1/2 tsp pure vanilla extract
pinch of salt
cooking spray, butter, or coconut oil, for skillet or griddle
Optional Toppings:
butter, sugar-free maple syrup, keto whipped cream
Directions:
Combine all the ingredients for the pancakes in a blender and blend until smooth. Let the batter sit for 5 minutes to thicken.
Grease a skillet or griddle with cooking spray, butter, or oil and heat over medium heat.
Scoop about ¼ cup of pancake batter into the skillet/griddle to make one pancake. Repeat with remaining batter, you will probably need to work in batches, depending on how many pancakes your skillet/griddle will accommodate. You should be able to make 6 pancakes total.
Once pancakes start to firm up, and bubbles appear on the tops, carefully flip them and cook for about a minute or two on the opposite side.
Serve pancakes with butter, sugar-free syrup, or keto whipped cream.
Tips:
If you're looking for brand recommendations, we love Lakanto sugar-free syrup.
To make keto whipped cream, simply whip heavy whipping cream with keto sweetener and pure vanilla extract to taste. You can use either an electric mixer or a wire whisk.
You should be able to make 6 pancakes from this batter, making one serving 3 pancakes.
Cook Time: 20 min
Servings: 2
Macros: Fat: 33.5g | Protein: 18.5g | Net Carbs: 6.3g | Fiber: 5.5g | Sugar Alcohols: 9g | Calories: 435