Free Bacon Wrapped Shrimp with Garlic Aioli Recipe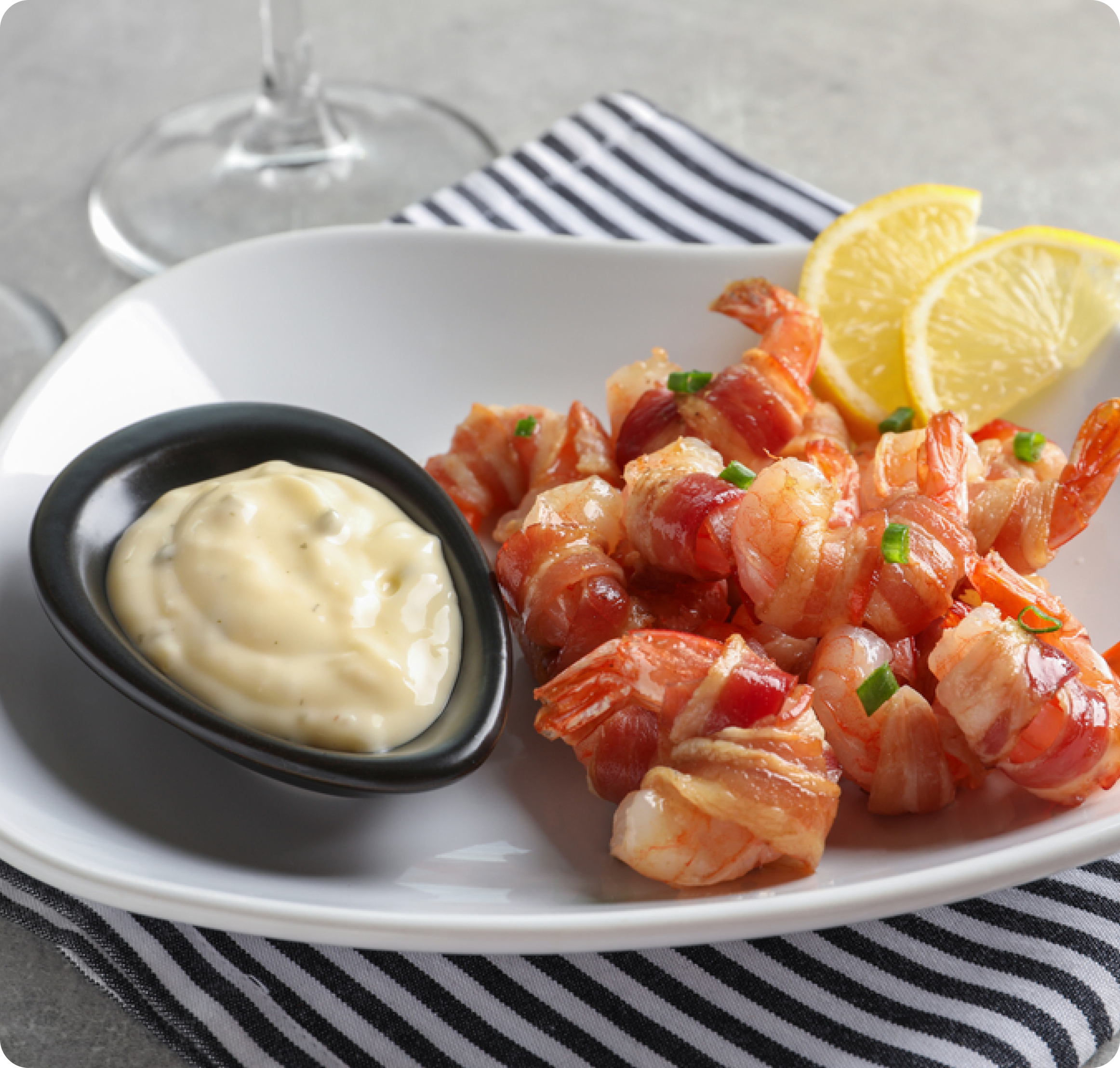 What's better than a plate of delicious shrimp? Delicious shrimp wrapped in bacon, of course! These shrimp are super quick and easy to make and served with a creamy aioli, which provides plenty of healthy fats to keep your body in fat burning ketosis. Enjoy these shrimp with a side salad or other favorite keto veggies!
Ingredients:
For the Shrimp:
12 large shrimp, peeled and deveined
6 slices of bacon, cut in half
1/4 tsp garlic powder
1/4 tsp smoked paprika
salt and pepper, to taste
For the Garlic Aioli:
1/3 cup mayo
1 clove garlic, minced
1 tbsp lemon juice
salt and pepper, to taste
Directions:
Move an oven rack to one position higher than the middle of your oven. Preheat your oven broiler to high heat and line a baking sheet with an oven safe rack. Spray the rack with cooking spray.
Add the shrimp to a bowl and toss with the garlic, powder, paprika, salt, and pepper to coat.
Wrap a half slice of bacon around each shrimp. Arrange the shrimp on the rack lined baking sheet.
Broil the shrimp for about 6-8 minutes, until the bacon is crisp. Remove from the oven, carefully flip the shrimp, and broil for another 3 minutes or until the shrimp is cooked.
While the shrimp is cooking, stir together the ingredients for the aioli in a small bowl.
Serve the shrimp with aioli for dipping and your favorite keto vegetables.
Tip:
In place of aioli, you can use guacamole or low carb Ranch dressing for dipping.
Cook Time: 20 minutes
Servings: 2
Macros: Fat: 36g | Protein: 20g | Net Carbs: 1.5g | Fiber: 0g | Sugar Alcohols: 0g | Calories: 419