Free BLT Salad Recipe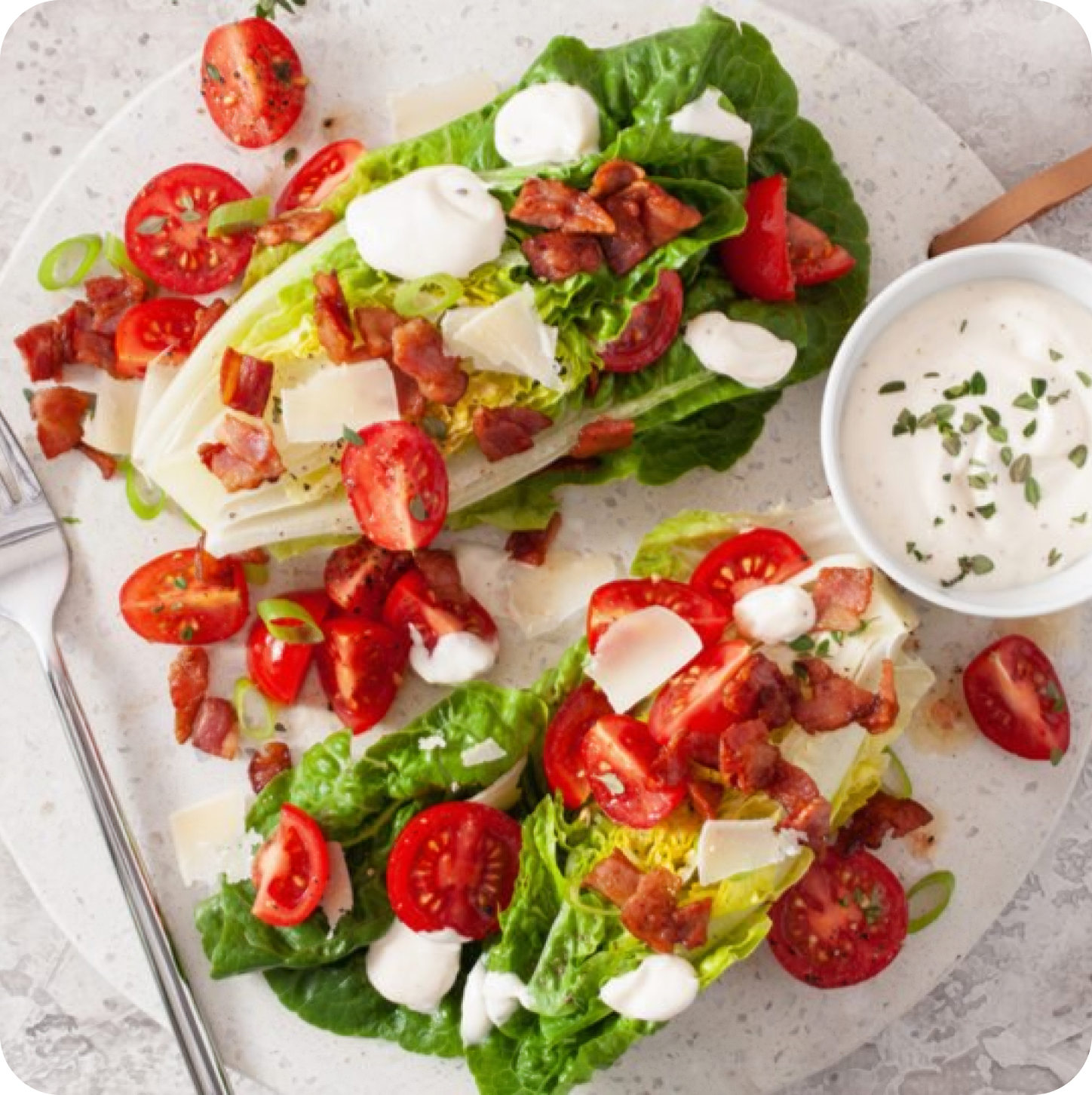 This salad delivers all the fresh flavors of a classic BLT sandwich, minus the carb loaded bread! Instead, we've topped this salad with a creamy herb dressing, providing healthy fats and flavor!
Ingredients:
For the Salad:
1 Romaine lettuce heart
8 cherry tomatoes, halved or quartered
2 sliced bacon, cooked and crumbed
1/4 cup parmesan cheese, shaved or shredded
salt and pepper, to taste
For the Dressing:
2 tbsp mayo
1 tbsp sour cream
1 tsp lemon juice
1/8 tsp garlic powder
1/8 tsp onion powder
1/2 tsp fresh chives, chopped (or 1/4 tsp dried)
1/4 tsp fresh or dried dill
salt and pepper, to taste
water or unsweetened almond milk, as needed to thin
Directions:
Slice the Romaine lettuce in half lengthwise and place on a plate.
Top the lettuce with tomatoes, bacon, and parmesan. Sprinkle the salad with salt and pepper.
In a small bowl, whisk together the ingredients for the dressing.
Drizzle the salad with dressing and enjoy!
Tips:
Feel free to add other veggies such as cucumbers or onions.
Add diced chicken, shrimp, tuna, or hard boiled egg for added protein.
You can use a low carb store-bought salad dressing.
Cook Time: 10 min
Servings: 1
Macros: Fat: 36g | Protein: 18g | Net Carbs: 7g | Fiber: 5g | Sugar Alcohols: 0g |
Calories: 459