Free Blueberry Cheesecake
Fat Bombs Recipe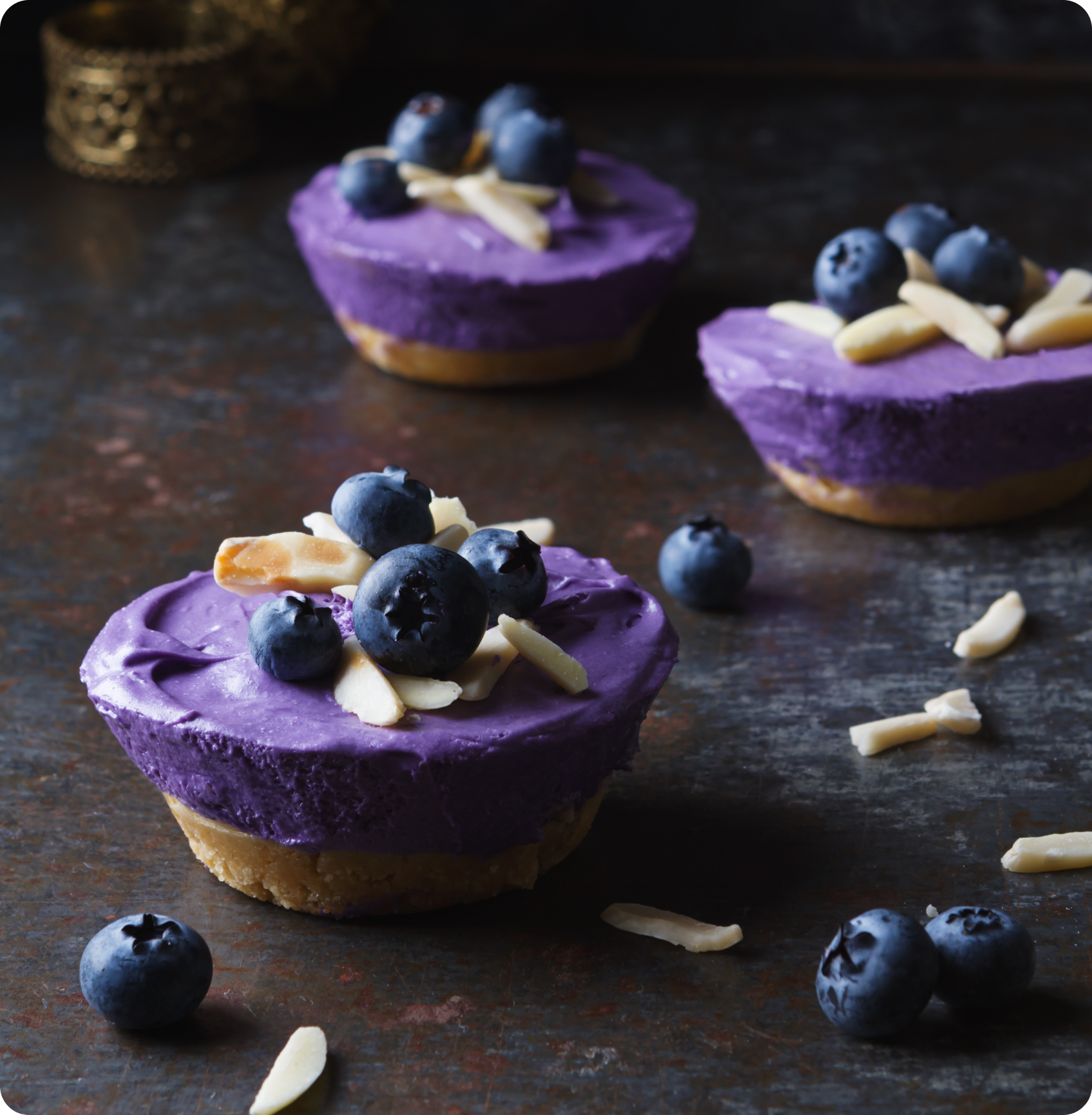 There is something mesmerizing about swirling blueberry purée into the cheesecake batter. Just watching the vibrant purple slowly twirl and soften into the luscious white cream puts me in a trance-like state…
That combined with the fragrance of the berries is just heaven...
I say, just the process of making blueberry cheesecake is as much of an eye-candy and aromatic delight as it is a delicious dessert.
This purple-hued indulgence simply steals the show at dinner parties.
It's mighty impressive and yet SUPER-EASY!
And to add to the fascination factor, I'm going to show you how to make it in dainty little cupcake servings.
This Blueberry Cheesecake Fat Bomb is a scrumptiously fruity, creamy treat – it combines the sweet tartness of blueberries with zesty, lemon-infused cream cheese. And is served on a bed of crunchy, crumbly, almond flour crust.
In case you're wondering blueberries pair wonderfully with lemon, taking that refreshing fruitiness to the next level.
With its dramatic purple look, this cheesecake carries the signature scent, sweetness, and color of summer.
Just take one bite, and you'll wonder where this purple-hued dessert was all your life…
Ingredients:
For the Crust:
3/4 cup almond flour
3 tbsp melted butter or coconut oil
1 tsp erythritol
For the Filling:
4 oz cream cheese, at room temperature
1/4 cup unsalted butter, at room temperature
1/4 cup extra virgin coconut oil
2 tbsp erythritol
3/4 cup fresh blueberries plus some for topping
1 tbsp fresh lemon juice plus zest of 1 lemon
Directions:
Preheat your oven to 350° F and lightly spray silicon mold with cooking spray or line a cupcake pan with paper liners.
Combine the ingredients for the crust and place heaping tablespoons into the prepared molds or cupcake pan. Gently press the crust down and bake for 8 minutes. Let cool completely while you prepare the filling.
Combine cream cheese, butter, coconut oil, and erythritol. Beat using a hand mixer until creamy.
Place the berries in a blender and blend until smooth.
Add pureed berries, lemon juice, and zest to the cream cheese mixture. Beat with a hand mixer until smooth.
Carefully spoon into the crusts and top with a few fresh blueberries.
Freeze for about 2 hours or until firm.
Let sit out of the freezer about 15 minutes before eating.
Tip:
Feel free to substitute blueberries for another favorite berry, such as raspberries!
Prep Time: 20 minutes
Servings: 8
Macros: Fat: 24.56g | Total Carbs: 7.4g | Fiber: 1.45g | Sugar Alcohols: 2.625g | Net Carbs: 3.325g | Protein: 3.26g | Calories: 246.6