Free Chimichurri Steak Tips Recipe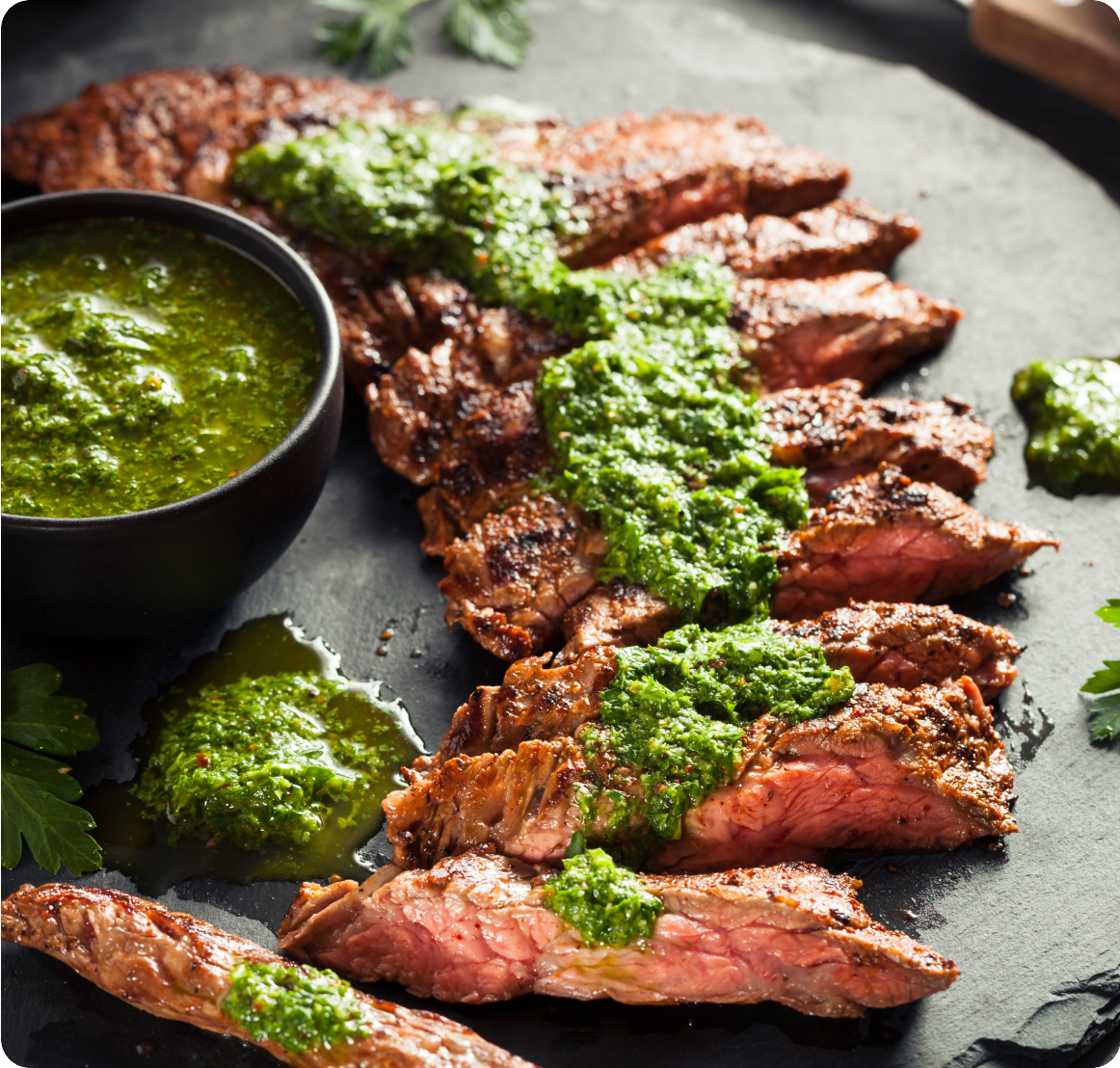 This recipe is one that truly excites and awakens your taste buds. And before I tell you what it is, I'll give you a hint: Chimichurri...
Chimichurri is a piquant South American herb and oil sauce that is at once tarty, citrusy, spicy, zesty, and delightfully tingly. It is really a celebration of fresh herbs mixed with the strong flavors of garlic, parsley, and vinegar.
This bright exotic sauce makes the most flavor-rich topping and marinade for meats and veggies. But if there's a piece of meat that this marinade/sauce was really made for, it's a sirloin steak. It's what we call "a match made in heaven". 
The zesty chimichurri marinade and sauce combo truly heighten the flavor profile of beef. 
This Chimichurri Steak Tips recipe is the crème de la crème of low-carb savories – tender, juicy, flavorful, pan-seared steak slices marinated in and drizzled with a characteristically piquant chimichurri sauce. Serve with a side of your favorite green salad and baked veggies.
This savory indulgence is what a transformational experience is all about.
Ingredients:
For the steak:
3 tbsp olive oil, divided
1 tbsp balsamic vinegar
1/2 tsp garlic powder
1 tsp sea salt
1/4 tsp black pepper
1 lb sirloin steak
For the Chimichurri Sauce:
1/3 cup extra virgin olive oil
2 tbsp red wine vinegar
1/2 cup fresh parsley
3 cloves of garlic
salt and pepper, to taste
Optional for serving:
salad greens, grilled asparagus, cauliflower rice, or other keto veggies
Directions:
To create a marinade, whisk together 2 tbsp olive oil, vinegar, garlic powder, salt, and pepper.
Add steak to marinade and let sit refrigerated for 30 minutes.
While the steak is marinating, make chimichurri sauce by pulsing all ingredients in a food processor until coarsely blended.
Heat 1 tbsp oil in a pan over medium-high heat. Sear the steak on both sides for about 2-3 minutes each side, or to your liking. Remove to a plate, tent with foil, and let rest for 3-5 minutes. Slice the steak and serve with chimichurri and your favorite keto veggie.
Tip:
You can use store-bought chimichurri or pesto to save time. Serve with your favorite keto veggies!
Prep Time: 40 minutes
Cook Time: 5 minutes
Servings: 4
Macros: Fat: 44.8g | Total Carbs: 2.3g | Fiber: 0.3g | Sugar Alcohols: 0g | Net Carbs: 2g | Protein: 31.1g | Calories: 535