Free Chocolate Lover's Muffins
Recipe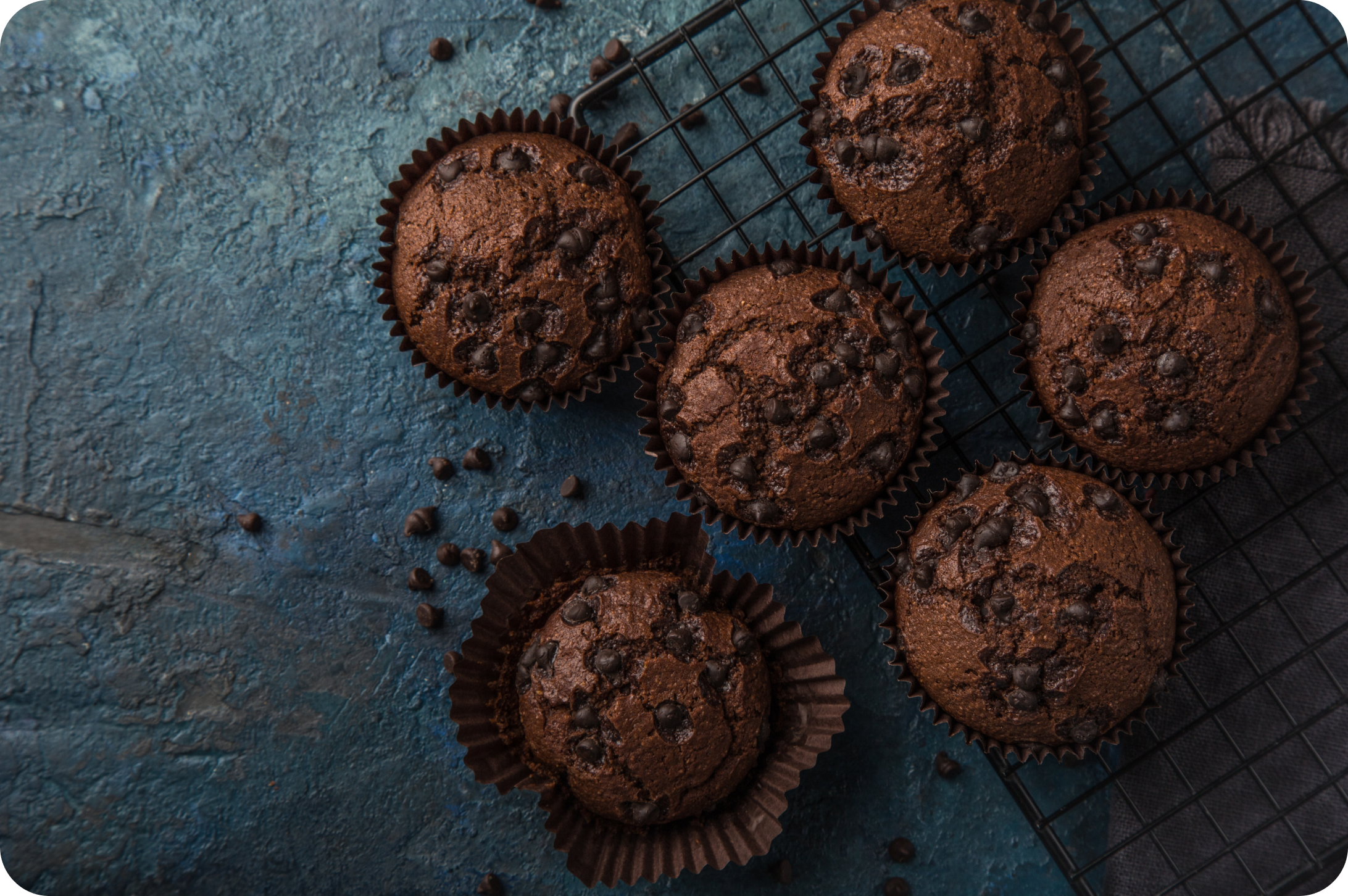 Chocolate cravings can be defeating. In my experience, it's best to quench them and quench them well. That means flavorful, deep, dense, intense, chocolate, whatever form of chocolate dessert you choose.
Being a mad chocolate lover, I like having my treats individualized… like a chocolate chip muffin.
My chocolate chip muffins aren't just any chocolate muffins with chips added to them. They are the ultimate chocolate-dense indulgence to calm the craziest chocolate lovers. And that's who I named this recipe after.
This Chocolate Lover's Muffins recipe is nothing short of divine – it's soft, moist, fluffy, and crumbly with an incredibly rich, mega chocolaty muffin core loaded with crunchy, munchy dark chocolate chips.
In three words it's simply decadent, irresistible, and addictive!
Ingredients:
2 cups almond flour
1/2 cup unsweetened cocoa powder
1/3 cup powdered erythritol
1 1/2 tsp baking powder
1/2 tsp kosher salt
1 cup (2 sticks) butter, melted
3 large eggs
1 tsp pure vanilla extract
1/2 cup sugar-free dark chocolate chips
Directions:
Begin by preheating the oven to 350°F and line a cupcake pan with paper liners or grease well.
In a large bowl, whisk together the dry ingredients.
Stir in the melted butter, eggs, and vanilla. Then, fold in chocolate chips.
Spoon the batter into the cupcake pan or baking cups.
Bake for about 12-15 mins or until done.
Cool on a wire rack.
Tips:
You can use 2 1/2 scoops Konscious Keto's Chocolate Shake in place of the sweetener and cocoa powder in this recipe.
If looking for brand recommendations, we love Kerrygold brand grass-fed butter, Dagoba unsweetened cocoa powder, Swerve brand erythritol, Lily's chocolate chips and Simply Organic pure vanilla extract!
Macros:
Fat: 28.4g | Total Carbs: 14.9g | Fiber: 5.6g | Sugar Alcohols: 5.5g | Net Carbs: 3.7g | Protein: 6.9g | Calories: 299
Additional Keto-Friendly Recipes & Resources