Free Classic Stuffed Peppers Recipe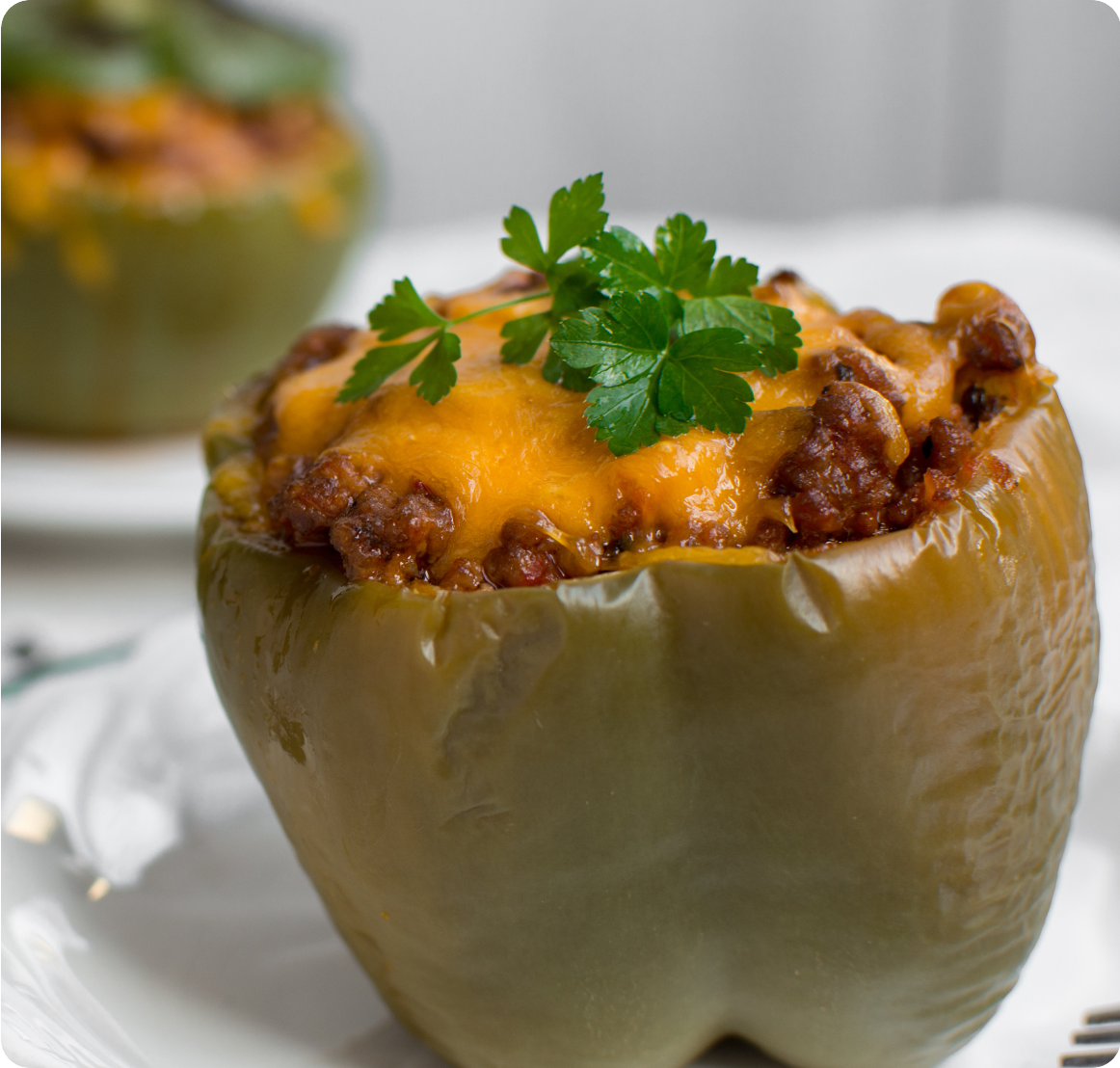 Of all the foods you can stuff, nothing compares to beautiful, bright bell peppers – their size is just right for a personal serving and they hold their shape in the oven. But most of all, their flavors are mild enough to pair well with just about any savory filling.
These Classic Stuffed Peppers are a hearty mixture of riced cauliflower, onions, tomatoes, and ground beef. It's a mouthwatering combination of crisp and tender, veggies and meat, and mild and spicy. Simply put, each bite is a burst of zingy flavors and textures.
Served with a topping of melty cheese, just hits the spot!
Ingredients:
4 medium bell peppers (red or green)
2 tbsp olive oil, divided
1/2 lb ground beef
1 clove of garlic, minced
1/4 onion, diced
1 1/2 cup cauliflower rice
1 cup diced tomatoes (fresh or canned)
1 tsp Italian seasoning
2 tbsp tomato paste
salt and pepper, to taste
1 cup shredded cheese (optional)
Optional for serving: fresh salad and keto-friendly dressing
Directions:
Preheat your oven to 350°F. Spray a baking dish with nonstick cooking spray.
Cut the tops off of the peppers, and remove the seeds and stems. Dice the tops and set them aside.
Bring a large pot of water to a boil. Add the peppers and boil for 2-3 minutes until slightly softened. Remove the peppers, using tongs, letting the excess water drip off, and stand the peppers up in the baking dish.
Heat 1 tbsp olive oil in a large skillet over medium-high heat. Add the ground beef, season with salt and pepper, and cook until browned. Remove the meat and set aside on a plate or in a bowl.
Add the remaining tbsp of oil to the same skillet and add the diced pepper tops, garlic, and onion. Sauté for a couple of minutes.
Add the cauliflower rice, season with salt and pepper, and continue to sauté another 2-3 minutes or until softened a bit.
Stir in the diced tomatoes, Italian seasoning, and tomato paste. Add the meat back to the skillet and bring everything to a simmer and cook for another minute or two.
Spoon the beef/veggie mixture into the peppers.
Add a small amount of water to the bottom of the baking dish. Cover the baking dish with tin foil and bake in the oven for about 25 minutes.
Remove the peppers from the oven, remove the foil, and top with cheese, if desired. Return to the oven to bake for 10 more minutes, uncovered, or until the cheese is melted and the peppers are tender.
Serve peppers with a side salad, if desired, and enjoy!
Prep Time: 15 minutes
Cook Time: 35 minutes
Servings: 4
Macros: Fat: 25g | Total Carbs: 12.3g | Fiber: 4.3g | Sugar Alcohols: 0g | Net Carbs: 8g | Protein: 24g | Calories: 364