Free Creamy Italian Chicken Skillet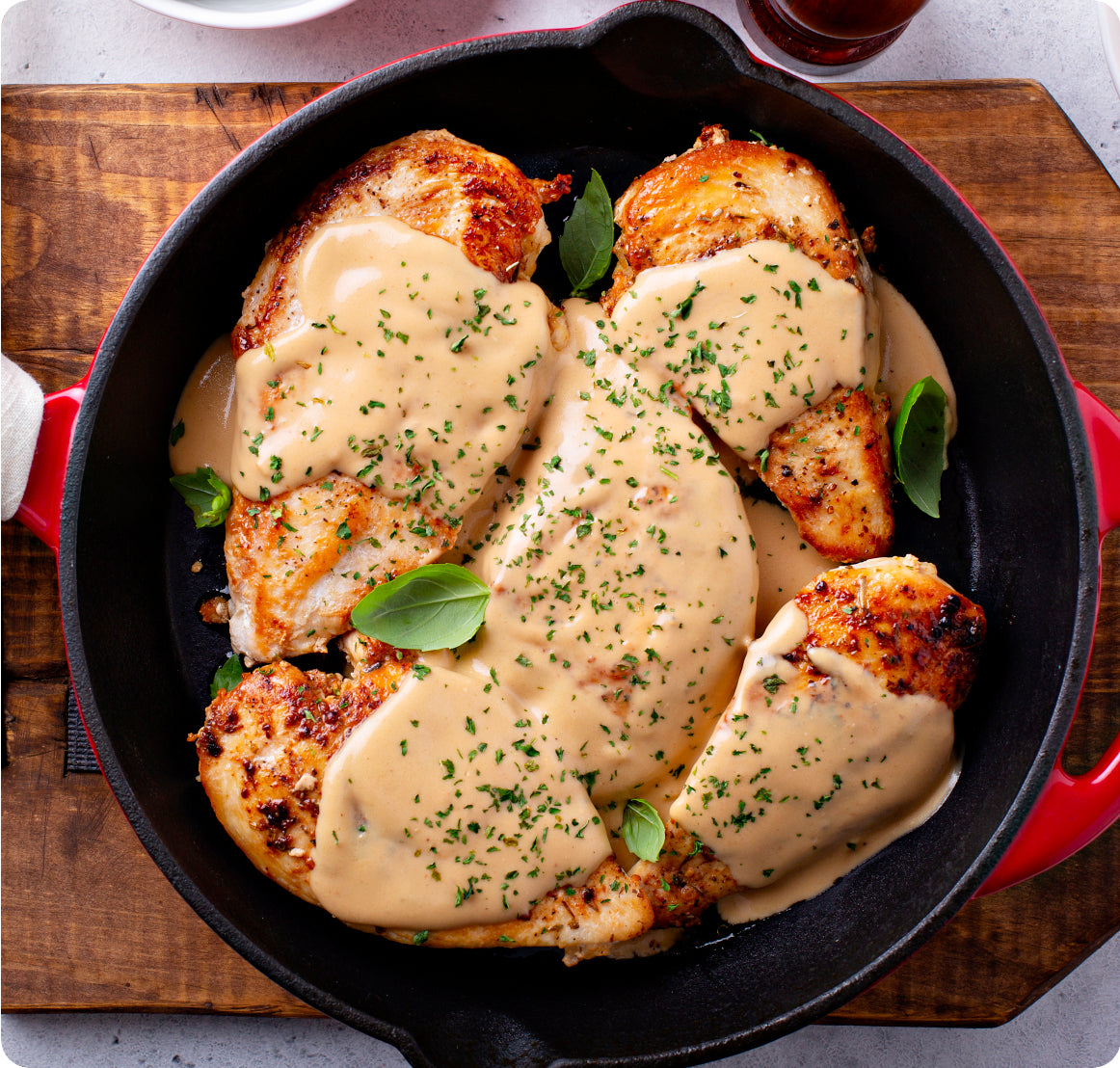 This Creamy Italian Chicken Skillet tastes like a fancy dish from an Italian bistro. Seasoned chicken, spinach, and tomatoes come together beautifully in the creamy parmesan sauce. Serve this dish with a side salad or zoodles to complete the meal.
Ingredients:
1 tbsp extra-virgin olive oil
4 (4-5 oz) boneless skinless chicken breasts
salt and pepper, to taste
1 tsp dried oregano
3 tbsp unsalted butter
3 cloves garlic, minced
1 1/2 cups cherry tomatoes, halved
2 cups baby spinach
1/2 cup heavy cream
1/4 cup freshly grated Parmesan cheese
Directions:
Heat the oil in a skillet over medium heat. Season the chicken with salt, pepper, and oregano. Sauté for 6-8 minutes on each side, or until done. Remove chicken.
Introduce the butter to the same skillet, and allow it to melt. Sauté the garlic in the butter until fragrant, careful not to burn.
Next, toss tomatoes into the skillet. Season with salt and pepper and cook until the tomatoes release their juices.
Next, add spinach and sauté until just wilted.
Pour in the heavy cream and sprinkle the parmesan cheese. Simmer until the sauce thickens a bit, about 3 minutes.
Return chicken to the skillet, and cook for another 5 minutes.
Serve with a squeeze of fresh lemon juice if desired.
Tips:
You can substitute unsweetened coconut milk for heavy cream.
This dish pairs perfectly with zucchini noodles!
Prep Time: 5 minutes
Cook Time: 25 minutes
Servings: 4
Macros: Fat: 29.8 | Total Carbs: 5g | Fiber: 1.3g | Sugar Alcohols: 0g | Net Carbs: 3.7g | Protein: 39.3g | Calories: 451