Free Creamy Spinach Parmesan Stuffed Chicken Recipe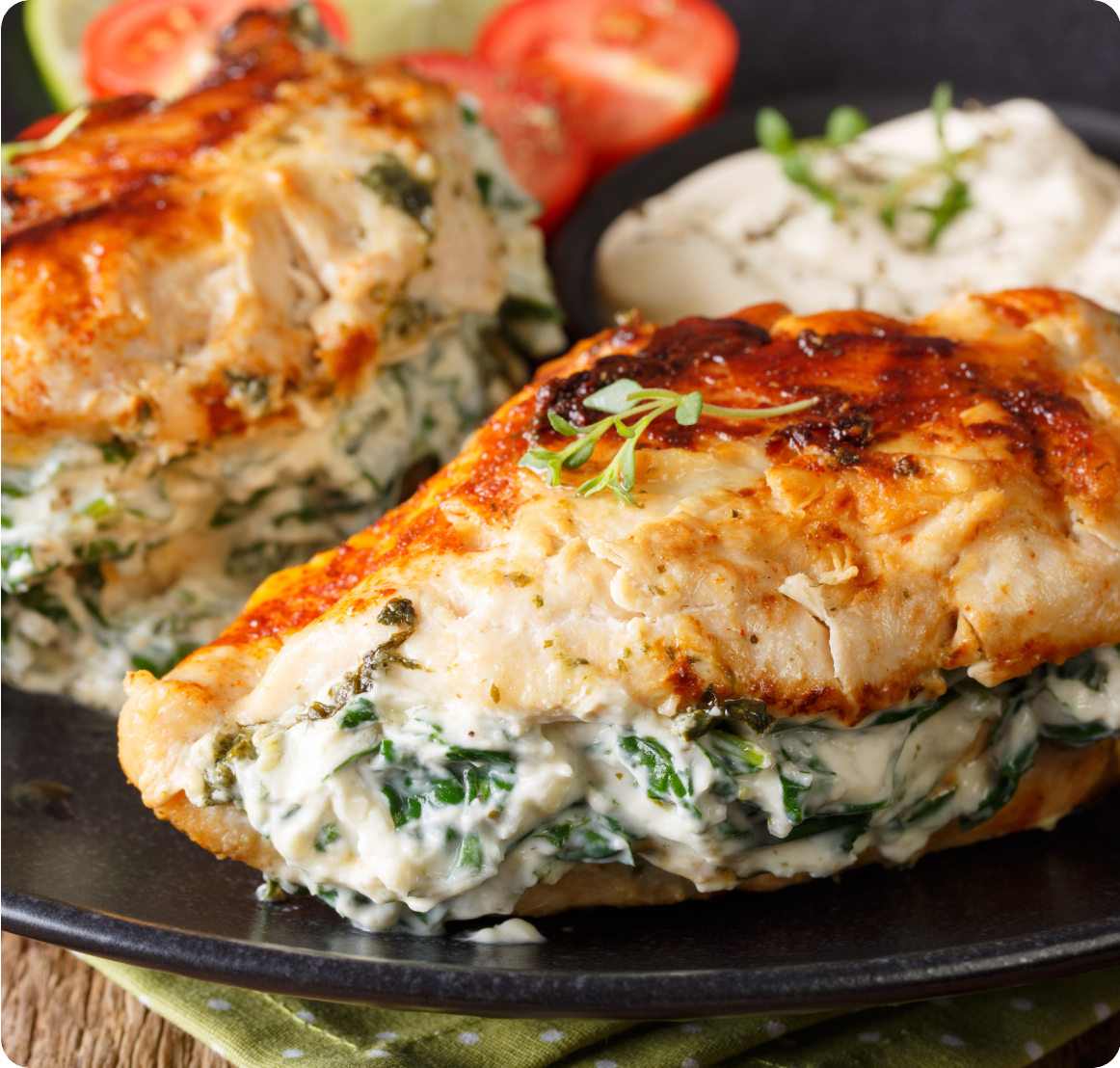 Who doesn't just LOVE freshly baked, creamy, cheesy chicken parmesan?
I think it's one of those universally loved favorites and I have a keto-friendly, easy recipe that is bound to please everyone around the dinner table. And they won't even be able to tell it's keto!
This Italian-inspired Creamy Spinach Parmesan Stuffed Chicken is a spicy and herbaceous savory dish that plays a breadcrumb-free twist on the classic recipe. Crisp, well-seasoned chicken with creamy fresh spinach blanketed in tons of melty cheese.
This chicken and spinach combination creates a mesmerizingly luscious texture… one you just can't get enough of...
Ingredients:
4 chicken breasts (approximately 4-6 oz each)
1 tbsp olive oil or avocado oil
1 tsp paprika
1 tsp salt, divided
1/4 tsp garlic powder
1/4 tsp onion powder
1/4 cup grated parmesan
4 oz cream cheese, softened
2 tbsp mayonnaise
1 1/2 cups chopped fresh spinach
1 tsp garlic, minced
1/2 tsp red pepper flakes
Directions:
Begin by preheating an oven to 375° F.
Next, mix the paprika, ½ tsp of salt, garlic powder, and onion powder in a small bowl and set aside.
Now, drizzle chicken with oil and rub with seasoning mix.
Use a knife to cut a slit in each chicken breast for the filling.
Next, combine the parmesan, cream cheese, mayo, spinach, garlic, red pepper flakes, and remaining salt. Stir well to incorporate ingredients fully.
Now, fill your chicken breasts with the creamed spinach mixture.
Place chicken breasts on a baking tray or dish sprayed with nonstick spray. Cook for about 25 minutes or until the chicken is no longer pink. Let cool for a few minutes before serving.
Tips:
This chicken pairs nicely with a large salad or cauliflower mash.
You may substitute ricotta cheese for cream cheese if you like.
Prep Time: 15 minutes
Cook Time: 35 minutes
Servings: 4
Macros: Fat: 25g | Total Carbs: 12.3g | Fiber: 4.3g | Sugar Alcohol: 0g | Net Carbs: 8g | Protein: 24g | Calories: 364