Free Crispy Cauliflower Fried Rice Recipe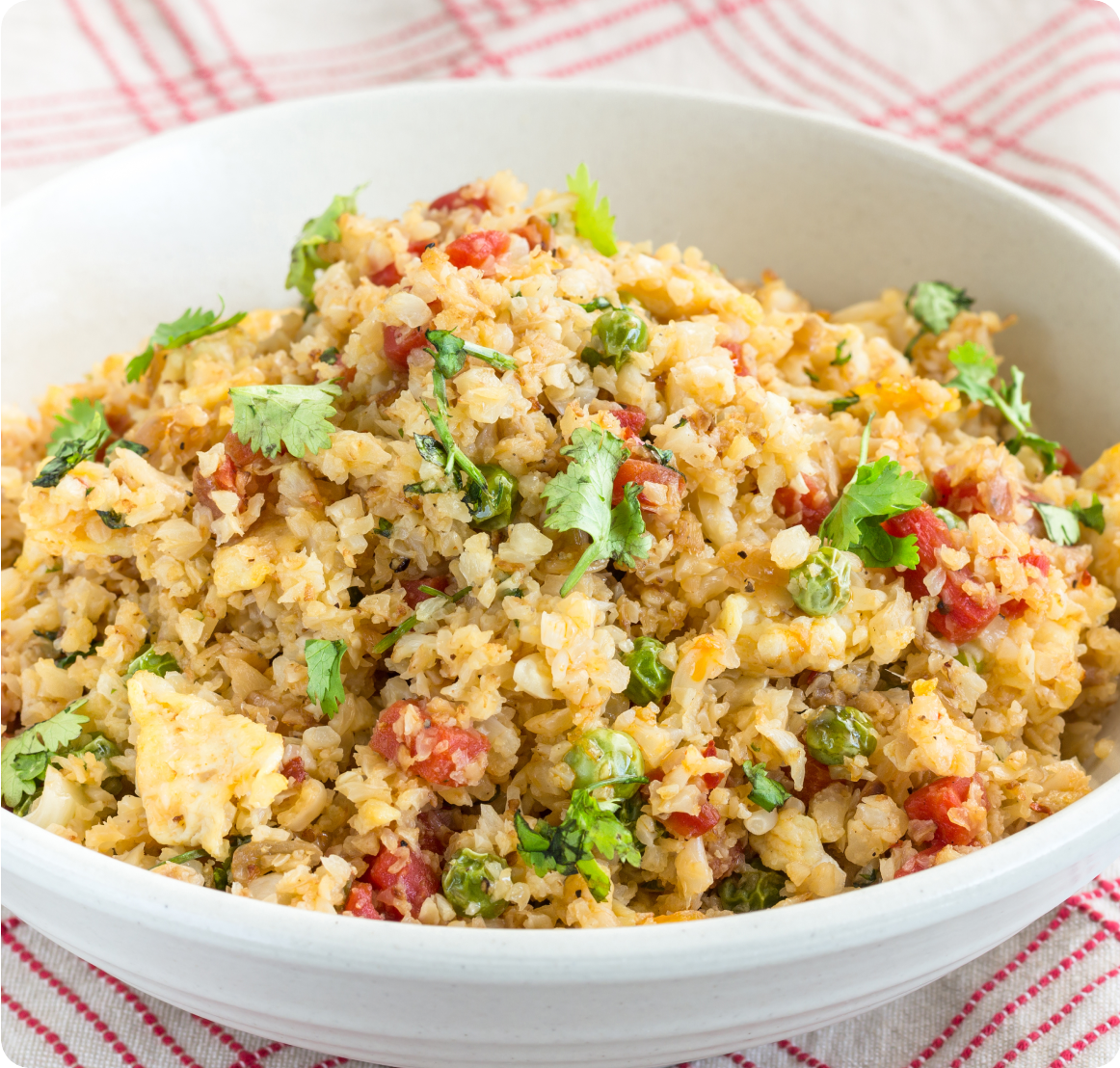 Let's incorporate more veggies into our diets…
And it all begins with Crispy Cauliflower Fried Rice. Infused with the aromatic goodness of Chinese cuisine – think garlic, ginger, soy sauce, chili pepper – this savory dish is a delightful dead ringer for fried rice. Only, it's even better.
The hot and lightly crisp cauliflower grains mimic the texture and mild flavor of rice. Plus they are an excellent low-carb, gluten-free alternative to actual rice. And it's just as filling.
Crispy Cauliflower fried rice is an exceptionally healthful savory dish that combines veggies, herbs, spices, and nuts (hemp seeds).
Cauliflower alone offers the powerful benefits of a superfood – it's loaded with vitamins and minerals, rich in antioxidants, and high in fiber, and it contains many nutrients that many people need more of.
Ingredients:
2 tbsp olive oil (substitute butter, ghee, avocado, or coconut oil)
2 cloves garlic, minced
1/4 cup onion, diced
1/3 cup red bell pepper, diced
1 tsp fresh ginger, minced
3 cups cauliflower, riced
1 tsp chili paste, such as Sambal Oelek
2 tbsp soy sauce or coconut aminos
1 tsp sesame oil
1/4 cup hemp hearts
2 tbsp fresh cilantro, chopped
Directions:
Heat olive oil in a large wok or skillet. Sauté garlic, onion, red pepper, and ginger for a few minutes.
Add the cauliflower to the skillet. Stir and sauté for a minute or two. Add the chili paste, coconut aminos or soy sauce, and sesame oil. Stir to combine and continue cooking for about 5 minutes or until cauliflower is done to your liking.
Stir in hemp hearts and fresh cilantro before serving.
Tips:
Top with a drizzle of hot sauce, such as Sriracha for added heat and flavor.
If looking for brand recommendations, we love Manitoba Harvest hemp hearts!
Many grocery stores now sell pre-made riced cauliflower and there are prepackaged options available on Amazon if you are really in a time crunch!
Prep Time: 5 minutes
Cook Time: 15 minutes
Servings: 2
Macros: Fat: 26.5g | Total Carbs: 11g | Fiber: 5g | Sugar Alcohols: 0g | Net Carbs: 6g | Protein: 10.5g | Calories: 318