Free Easy Eggplant and Tomato Parmesan Recipe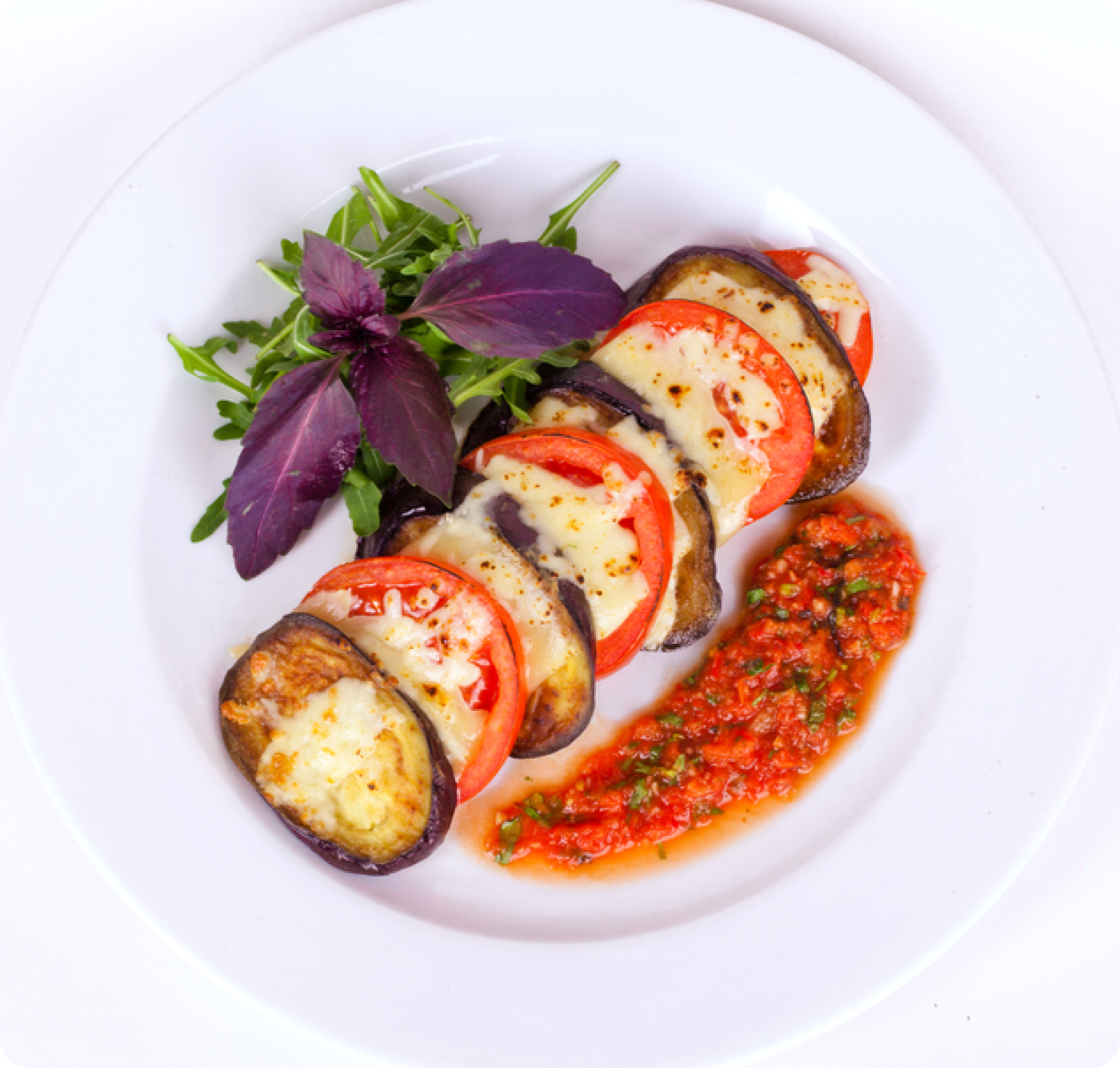 Looking for a satisfying vegetarian meal? Look no further than this Easy Eggplant and Tomato Parmesan. Eggplant provides an abundance of vitamins and minerals, such as Vitamins C, K, and B6, as well as potassium, magnesium, and folate. Eating eggplant may improve digestion and heart health, as well as help to prevent disease.
Ingredients:
1 small eggplant (about 1 lb), sliced into ¼ inch thick slices
salt and pepper, to taste
1 1/2 tbsp olive oil
2 Roma tomatoes, sliced
1/2 tsp Italian Seasoning
1 cup shredded mozzarella cheese
2 tbsp parmesan cheese
Optional, for serving:
salad greens, low carb marinara sauce
Directions:
Place the eggplant rounds on paper towels and sprinkle with salt. Let sit for about 15 minutes to release their moisture. Blot the eggplant with paper towels until dry.
Preheat your oven to 425°F and line a baking sheet with parchment paper.
Arrange the eggplant on the baking sheet and brush with about half the olive oil. Sprinkle them with salt and pepper. Roast in the oven for about 6 minutes.
Remove the eggplant, flip them over, brush with remaining oil and sprinkle with salt and pepper. Roast for another 6-8 minutes or until softened and golden.
Remove the eggplant from the oven and turn on the oven broiler to high heat. Position the top oven rack to the second-highest position.
Arrange eggplant and tomato slices in an alternating pattern. Since this recipe is for 2 servings, you can divide the ingredients so that you make 2 rows of alternating eggplant/tomato slices.
Sprinkle the eggplant and tomatoes with Italian seasoning, parmesan cheese, and mozzarella.
Return to the oven and broil the eggplant/tomatoes for about 2-3 minutes or until the cheese is melted.
Serve the eggplant and tomato parmesan with salad greens and low carb marinara if desired.
Tip:
Is eggplant, not your thing? No worries try sliced zucchini instead!
Cook Time: 30 minutes
Servings: 2
Macros: Fat: 26g | Protein: 17g | Net Carbs: 8.8g | Fiber: 7.5g | Sugar Alcohols: 0g | Calories: 363