Free Eggplant Pizza Snack Recipe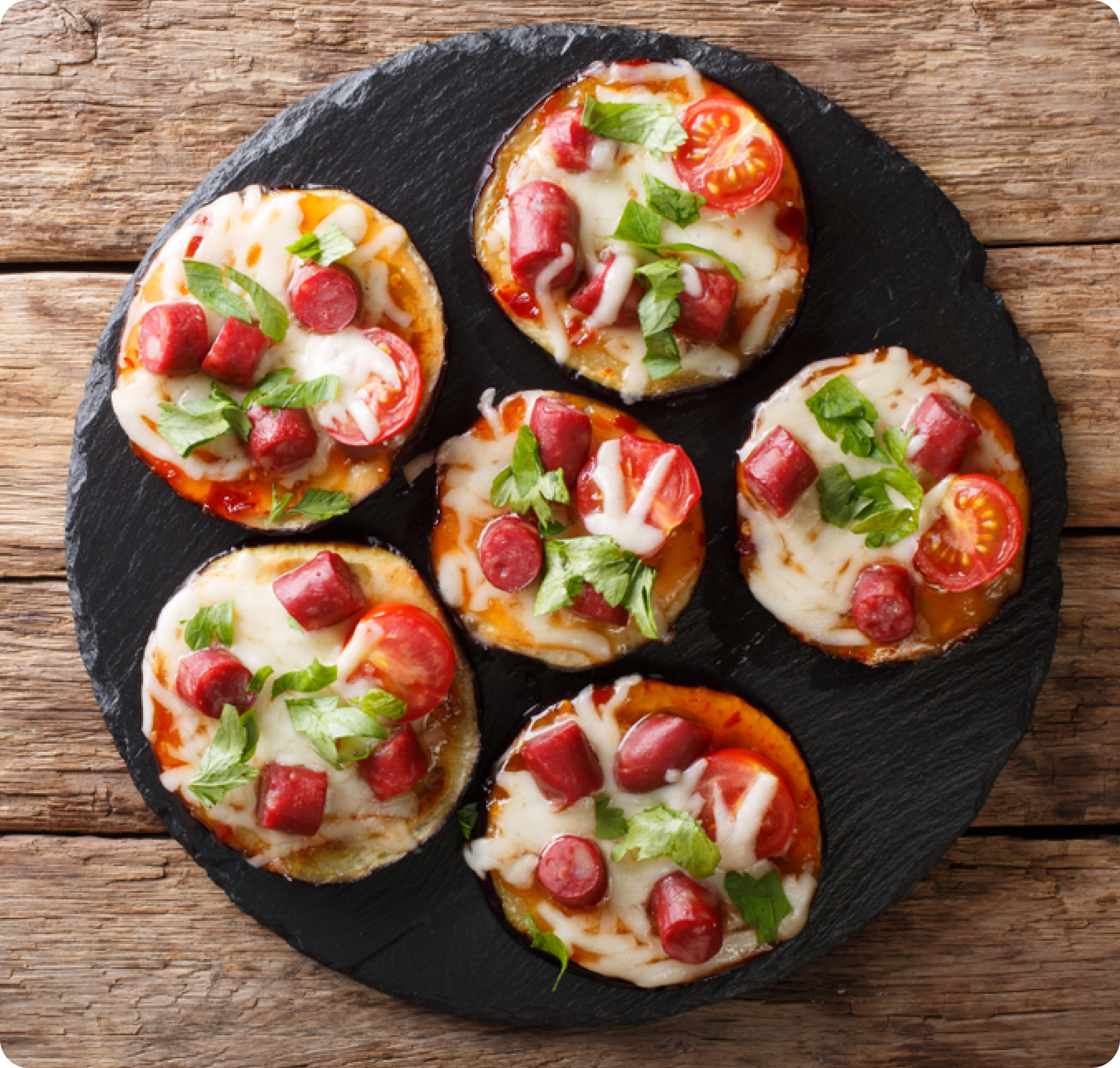 Eggplant slices topped with cheese, sausage and tomatoes. These simple bites are made with few ingredients and are a delightful treat! These are best when served warm and because they taste so good, you will forget about classic pizza in seconds!
Ingredients:
Approximately 4 oz eggplant (1 small or 1/2 large eggplant), cut into six slices
1/2 tsp salt
1 clove garlic, minced
2 tsp olive oil
1.5 oz fully cooked sausage, chopped
3 cherry tomatoes, halved
3 tbsp low-carb tomato sauce
1/2 cup mozzarella cheese, shredded
Optional:
Directions:
Preheat the oven to 400°F.
Sprinkle the eggplant slices with salt and place in a colander for 15 minutes.
Pat the eggplants to remove the moisture.
Combine garlic and olive oil in a bowl. Brush the eggplants with the mixture and place onto the baking sheet, lined with parchment paper.
Bake the eggplants for 15 minutes.
Remove the eggplants from the oven and smear with tomato sauce.
Top with mozzarella, sausage pieces, and tomato halves.
Bake for 10 minutes, or until the cheese has melted.
Serve warm with fresh basil, if desired.
Tips:
One serving is 3 mini pizzas.
These pizza bites can be made with other toppings, like mushrooms, bell peppers, or pepperoni.
For a gourmet version, top the pizza with pieces of Chorizo sausage.
Cook Time: 40 minutes
Servings: 2
Macros: Fat: 21g | Protein: 9.5g | Net Carbs: 3.5g | Fiber: 2.5g | Sugar Alcohols: 0g | Calories: 251