Free Farmer's Market
Quiche Recipe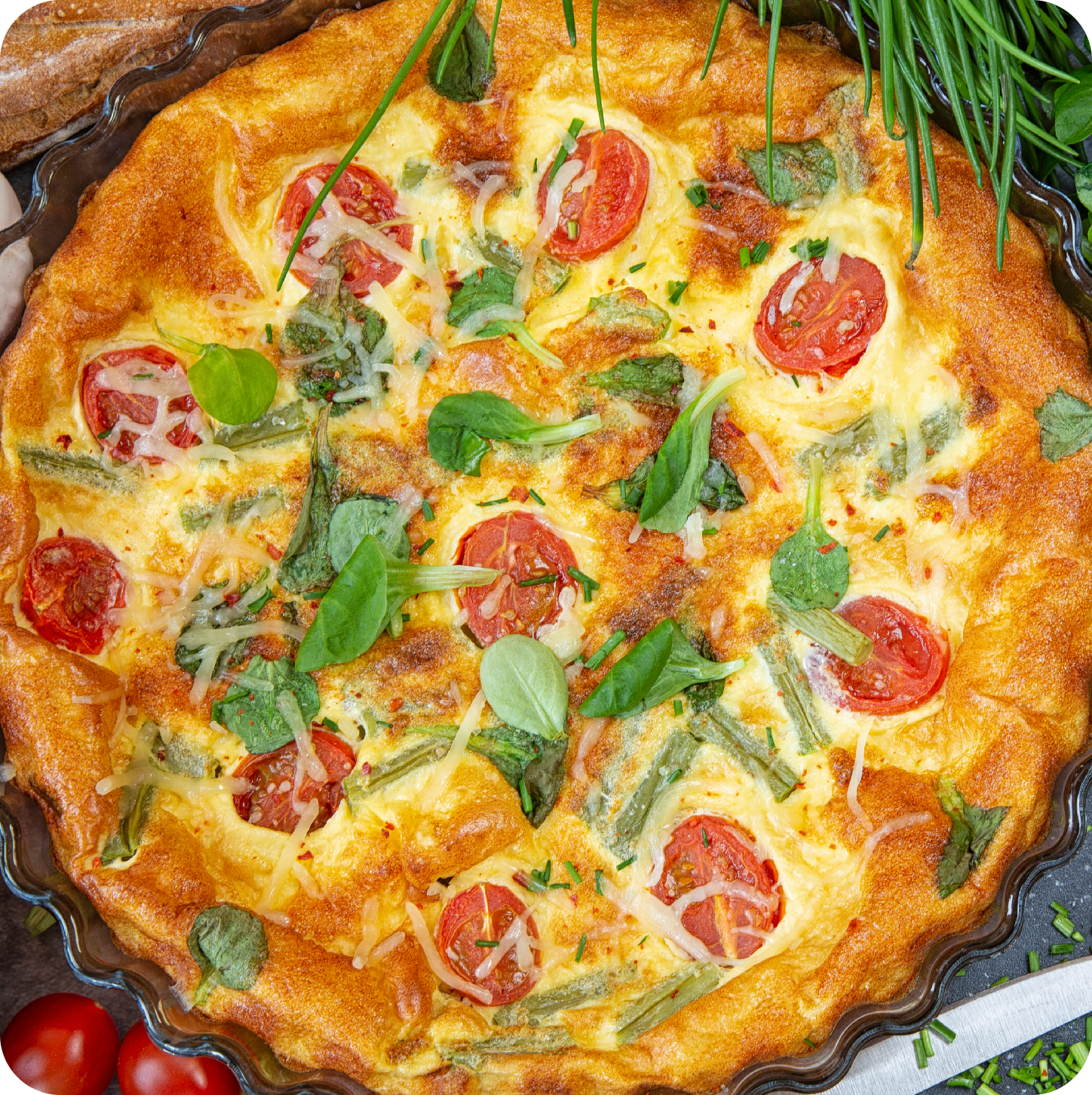 Craving homemade quiche but don't have the time to make it?
How about you just skip the time-consuming pastry crust altogether?
And get right to making that delicious filling, which is the real star of this dish.
(Besides, now that you're doing keto, you don't need it anyway…)
Let's introduce you to the QUEEN of all crustless quiches… Farmer's Market Quiche.
This quiche is sophisticated, visually pleasing, and tastes just good as it looks.
And it's Quick and Easy – two words you're really looking for on weekdays.
Farmer's Market Quiche is one delicious savory custard with tons of flavor and lots of colorful, fresh, juicy veggies. Chopped basil and chives scattered over cherry tomatoes halves in a bed of nutty, creamy Gruyère cheese…
Scatter additional basil and chives for a herbaceous garnish and serve.
Ingredients:
8 eggs
1/4 cup heavy cream
salt and pepper, to taste
1 tbsp butter (substitute olive, avocado, or coconut oil)
1/2 cup green beans, chopped
8 cherry tomatoes, halved
1 tbsp fresh basil, chopped
2 tsp fresh chives, chopped
1 cup shredded Gruyere cheese, or any other cheese you prefer
Optional add-ins:
additional basil and chives for garnish
Directions:
Preheat your oven to 375°F and grease or spray a 9-inch deep-dish pie plate or similar size baking dish.
In a bowl, whisk together the eggs, heavy cream, salt, pepper, basil, and chives. Set aside.
Heat the butter in a skillet over medium-high heat. Add the green beans and saute for about 4-5 minutes until softened.
Add the green beans and tomatoes to the baking dish. Sprinkle the veggies with half of the cheese. Pour the egg mixture over the veggies and top with the remaining cheese. Bake in the oven for about 20-30 minutes or until golden.
Let cool for about 5 minutes before serving. Garnish with additional fresh herbs, if desired.
Tip:
Feel free to substitute or add other veggies, such as spinach, asparagus, or broccoli.
Cook Time: 40 min
Servings: 4
Macros: Fat: 27.5g | Protein: 21.5g | Net Carbs: 2.6g | Fiber: 0.8g | Sugar Alcohols: 0g | Calories: 353