Free Golden KETO Cauliflower Bake Recipe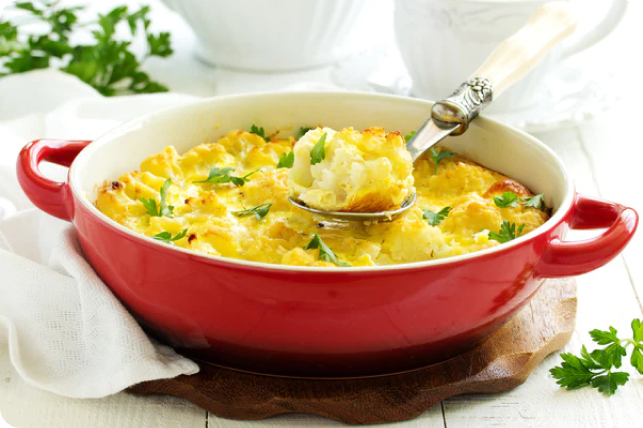 If you're looking for a delicious and nutritious option for dinner tonight, you've come to the right place. Our chefs in the Konscious Keto kitchen, are showing nothing but love.
We have a fantastic recipe that we think the whole family will love (even if they are not keto!). No one will know this tasty treat is packed with fiber, vitamins C, K, B6, foliate, and so much more.
Yes, cauliflower is a nutrient-rich veggie bomb that provides many of the minerals missing on a keto diet.
As it's high in fiber, it will help you stay feeling fuller for longer, and can aid in helping you to eat fewer calories throughout the day. This can lead to weight loss without you feeling deprived or hungry.
We recommend eating larger, more filling meals like this one, earlier in the day when possible for best results. Focus on a lighter meal for dinner, and add in some intermittent fasting the best weight loss results.
This Golden KETO Cauliflower Bake would be the secret weapon you've been waiting for to kickstart your keto journey.
Ingredients:
1 head of cauliflower, chopped
12 oz shredded sharp cheddar cheese (divided into 8 oz. and 4 oz.)
4 oz cream cheese
1/4 cup of heavy cream
1/2 cup of sour cream
10 bacon slices, cooked and crumbled (divided into 6-8 and 4-6 slices)
1 1/2 cup scallions, chopped (divided into 1 cup plus 1/2 cup)
1 clove garlic, minced
Salt and pepper, to taste
Directions:
Preheat oven to 350°F.
Steam cauliflower for five minutes or until tender.
With a hand mixer, mix 8 oz. cheddar, cream cheese, heavy cream, and sour cream in a bowl.
Add 6-8 slices crumbled bacon, 1 cup scallions, and garlic to the creamed mixture. Mix everything into the cauliflower. Top with remaining cheese and bacon. Pour into a baking pan prepped with cooking spray. Cover with foil and bake for 20 minutes.
Remove foil continue baking for 5-10 minutes or until ready and bubbling. Top with the remaining ½ cup of scallions. Enjoy!
Tip:
By increasing the serving size, you can enjoy this super-indulgent dish as a standalone due to its high-fat content. And, as it's packed with veggies, you shouldn't feel guilty about this big bowl of comfort food.
Prep Time: 10 minutes
Cook Time: 30 minutes
Servings: 8
Macros: Fat: 28g | Total Carbs: 5g | Calories: 345