Free Hearty Taco Soup Recipe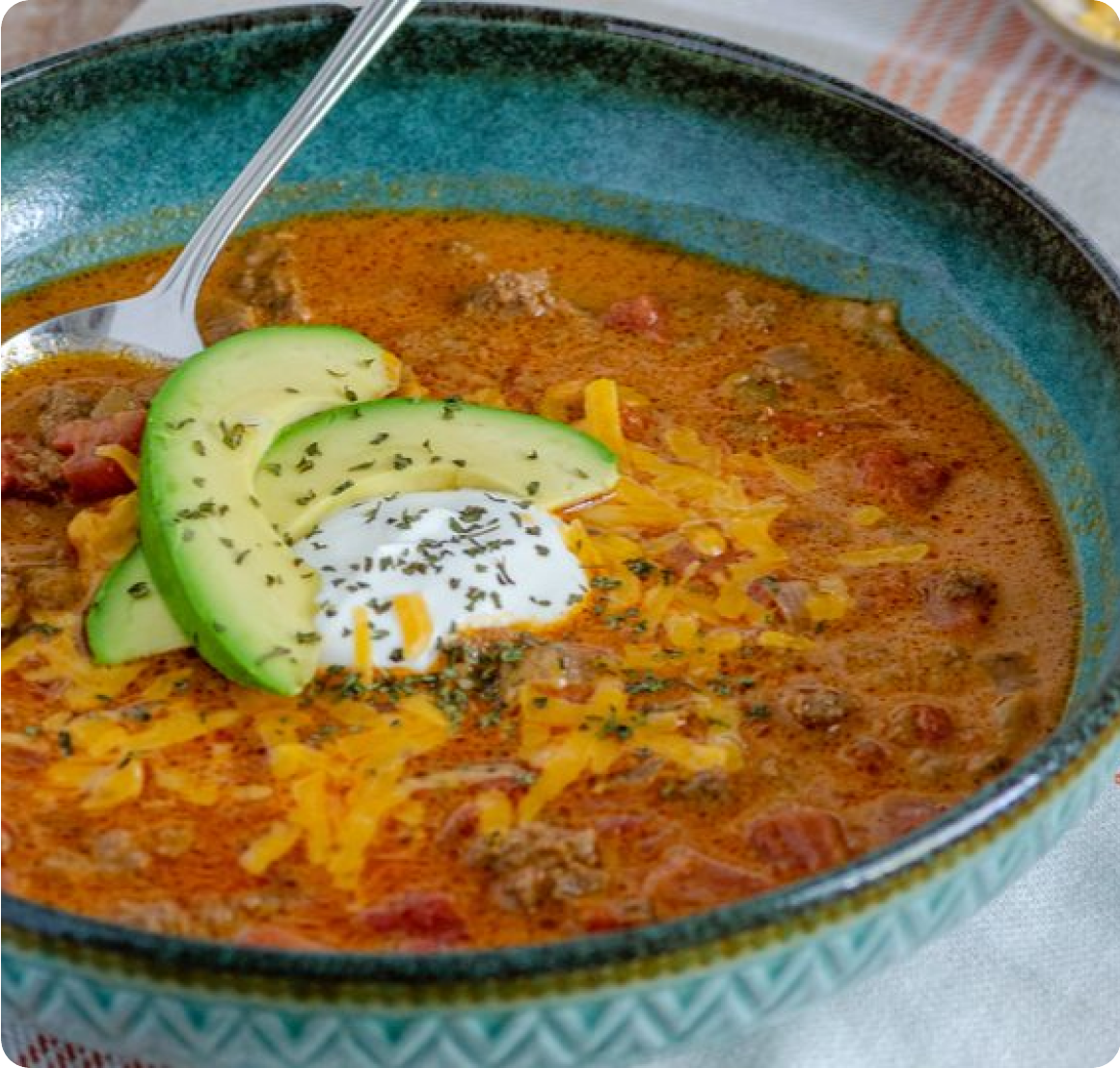 Enjoy the flavors of Mexico with this hearty taco soup. Beef is a great source of high-quality protein. It is also an excellent source of iron, which you need to keep your energy levels up. Serve this soup with all your favorite keto-friendly toppings.
Ingredients:
1 lb ground beef
2 tbsp taco seasoning
2 cups beef broth
1 large tomato, diced
3/4 cup heavy cream
salt and pepper, to taste
optional toppings: shredded cheese, sour cream, avocado, cilantro
Directions:
In a pot over medium-high heat, add ground beef. Brown for about 8 minutes.
Add diced tomato, heavy cream, taco seasoning, and salt and pepper. Cook for about 5 minutes, stirring well.
Add beef broth and lower the heat. Simmer for about 20 minutes.
Ladle into bowls, topping with avocado, sour cream, cheddar cheese, and cilantro, if desired.
Tips:
To add some heat, you can add some canned green chiles.
For extra nutrition, you can add an assortment of bell peppers.
If you would like to make your own taco seasoning, combine the following ingredients:

1 tbsp chili powder
1 1/2 tsp cumin
1/4 tsp garlic powder
1/4 tsp onion powder
1/4 tsp red pepper flakes
1/4 tsp dried oregano
1/2 tsp paprika, smoked or regular
1 tsp salt
1/2 tsp black pepper
Prep Time: 5 minutes
Cook Time: 35 minutes
Servings: 4
Macros: Fat: 36.3g | Total Carbs: 6g | Fiber: 1g | Sugar Alcohols: 0g | Net Carbs: 5g | Protein: 33g | Calories: 484