Free Keto Choc-Chip Cookie Dough Fat Bombs Recipe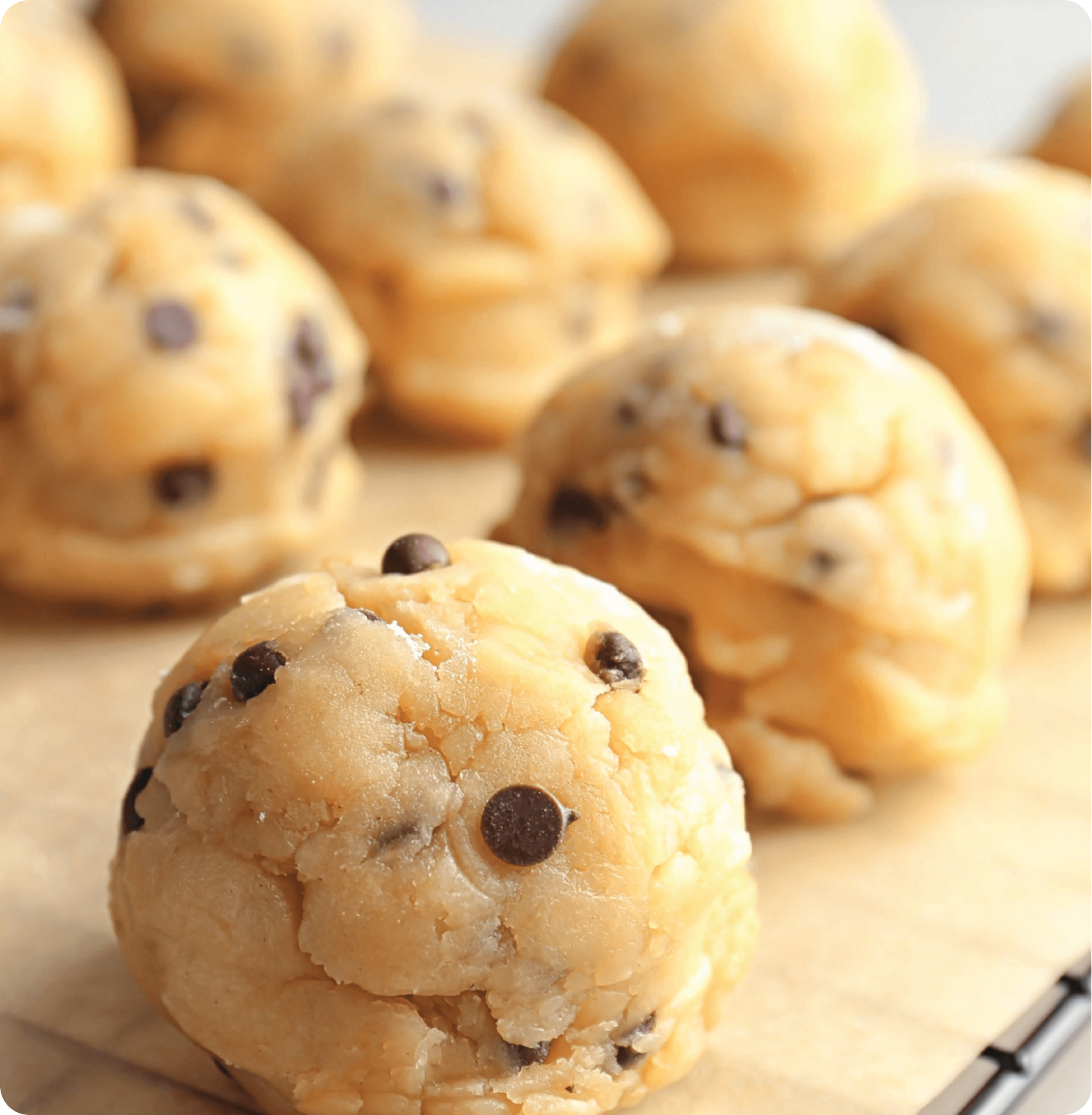 Choc-chip cookie dough fat bombs, anyone?
They're rich, mood-enhancing and definitely well-deserved when you're doing keto.
Yummylicious fat bombs are easy enough to make on a weeknight. And mixing all that soft creamy dough is just wonderfully relaxing.
These Choc-Chip Cookie Dough Fat Bombs are buttery, cream-cheesy, and mildly tangy little dough bites. The vanilla-infused dough offers that tender, fudgy chewiness you dig in an indulgent sweet treat. And a mixture of 3 generous tablespoons full of chocolate chips gives this classic cookie dough an incredible chocolate kick.
If you're mad about nuts and want to add a bit of crunch, I suggest folding in just a spoonful of crushed walnuts (or your favorite nuts for that matter).
Let these sumptuous fat bombs chill in the freezer for about 40mins before you sneak a bite...
Or at least try!
Ingredients:
4 oz cream cheese, room temperature
4 tbsp butter, room temperature
2 tbsp erythritol
1/4 cup almond flour
10 drops liquid stevia, or to taste
1/4 tsp pure vanilla extract
1/8 tsp pink salt
3 tbsp sugar-free chocolate chips
Directions:
Line a small baking sheet with parchment paper.
Combine the butter and cream cheese into a large bowl using a hand mixer.
Add in the almond flour, erythritol, stevia, vanilla extract, and pink salt and combine.
Fold in chocolate chips with a spatula.
Place in the freezer for 20 minutes to firm up a bit. Scoop into balls onto the baking sheet. Place in the freezer for about 20 minutes to firm up.
Store leftovers in an airtight container in the freezer, let thaw a few minutes before enjoying.
Tips:
Add a couple of tablespoons of natural peanut butter for a PB choc chip version!
If looking for brand recommendations, we love Swerve brand erythritol, Lily's chocolate chips, Pure Mountain Liquid Stevia and Simply Organic pure vanilla extract!
Prep Time: 15 minutes, plus 40 minutes chill time
Servings: 6
Macros: Fat: 19.2g | Total Carbs: 9.2g | Fiber: 2.5g | Sugar Alcohols: 4.5g | Net Carbs: 2.2g | Protein: 2.8g | Calories: 189