Free Tilapia Lettuce Wraps Recipe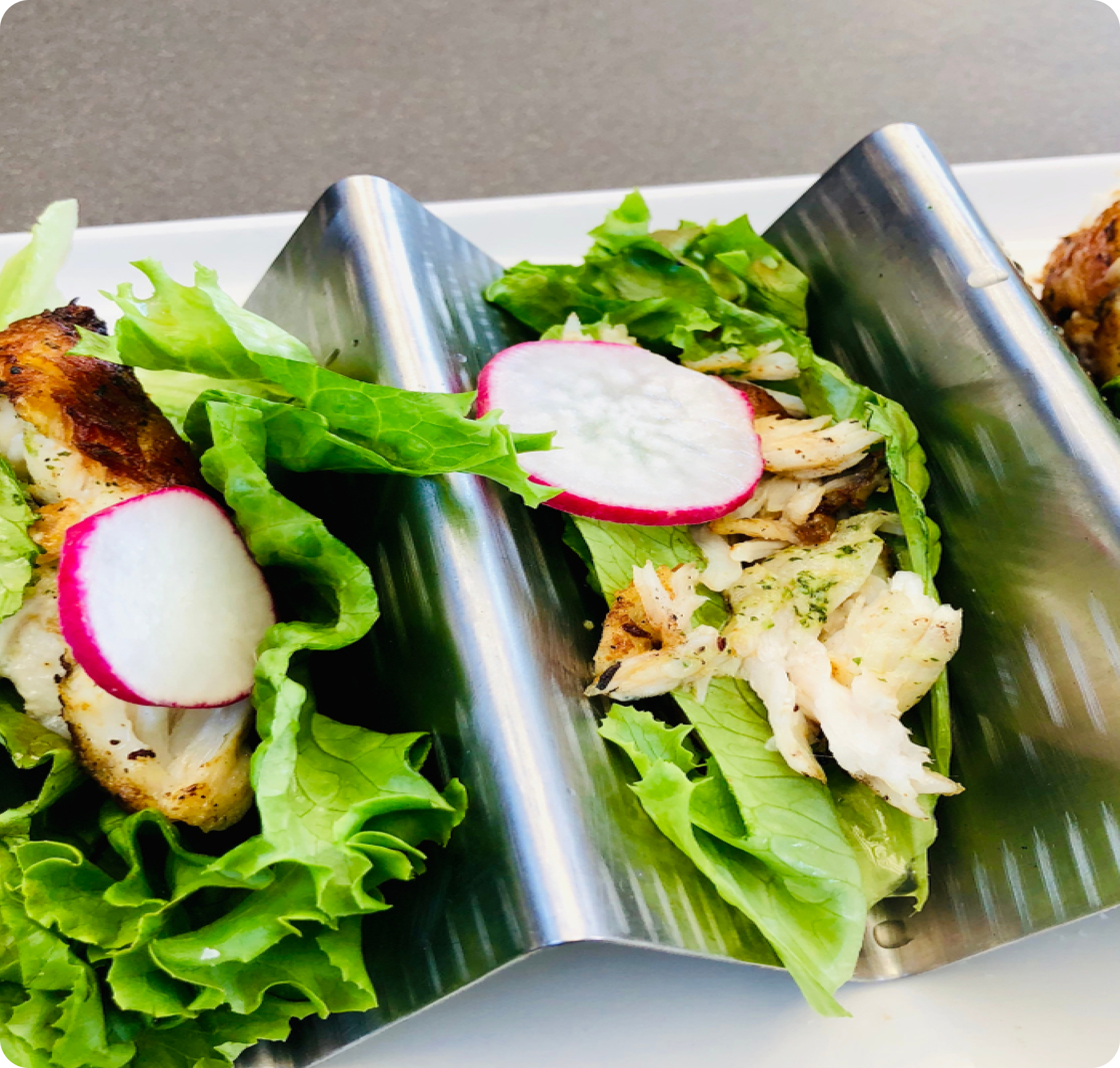 Enjoy this keto spin on fish tacos for a tasty lunch or dinner option. Tilapia provides abundant protein to keep you feeling full, while the olive oil in the Cilantro Sauce provides healthy fats to keep your body in fat-burning ketosis. Feel free to add some pico de gallo or guacamole for added flavor!
Ingredients:
For the Lettuce Wraps:
2 (4oz) tilapia filets
1 tbsp olive oil (substitute avocado or coconut oil)
1/2 tsp chili powder
1/4 tsp paprika
1/2 tsp cajun seasoning
1/4 tsp garlic powder
salt and pepper, to taste
1 tbsp fresh lime juice
1 radish thinly sliced
3 lettuce leaves (for wraps)
Optional toppings:
guacamole, sour cream, pico de gallo, shredded cheese, jalapeño
For the Cilantro Sauce:
1/4 cup olive oil
1 clove garlic, minced
1/4 cup fresh cilantro, chopped
2 tbsp fresh lime juice
salt, to taste
Directions:
Preheat your oven to 400°F and line a baking sheet with parchment paper.
In a small bowl, combine the chili powder, paprika, cajun seasoning, garlic powder, salt and pepper.
Rub each tilapia filet with olive oil and coat with the spice mixture. Arrange the fish on the baking sheet, drizzle with lime juice and bake for about 15 minutes or until the fish is cooked.
Meanwhile, pulse the ingredients for the Cilantro Sauce in a blender until well combined. You can also finely mince the cilantro and garlic and stir everything by hand.
When the fish is done, chop or shred it into smaller pieces.
Fill the lettuce wraps with the fish, sliced radish, and drizzle with the cilantro sauce. Serve with additional toppings, if desired.
Tip:
This recipe works well with other proteins, like chicken, shrimp, or salmon, as well!
Cook Time: 20 minutes
Servings: 2
Macros: Fat: 37g | Protein: 29.5g | Net Carbs: 3g | Fiber: 0g | Sugar Alcohols: 0g | Calories: 463