Free Veggie Pizza
Frittata Recipe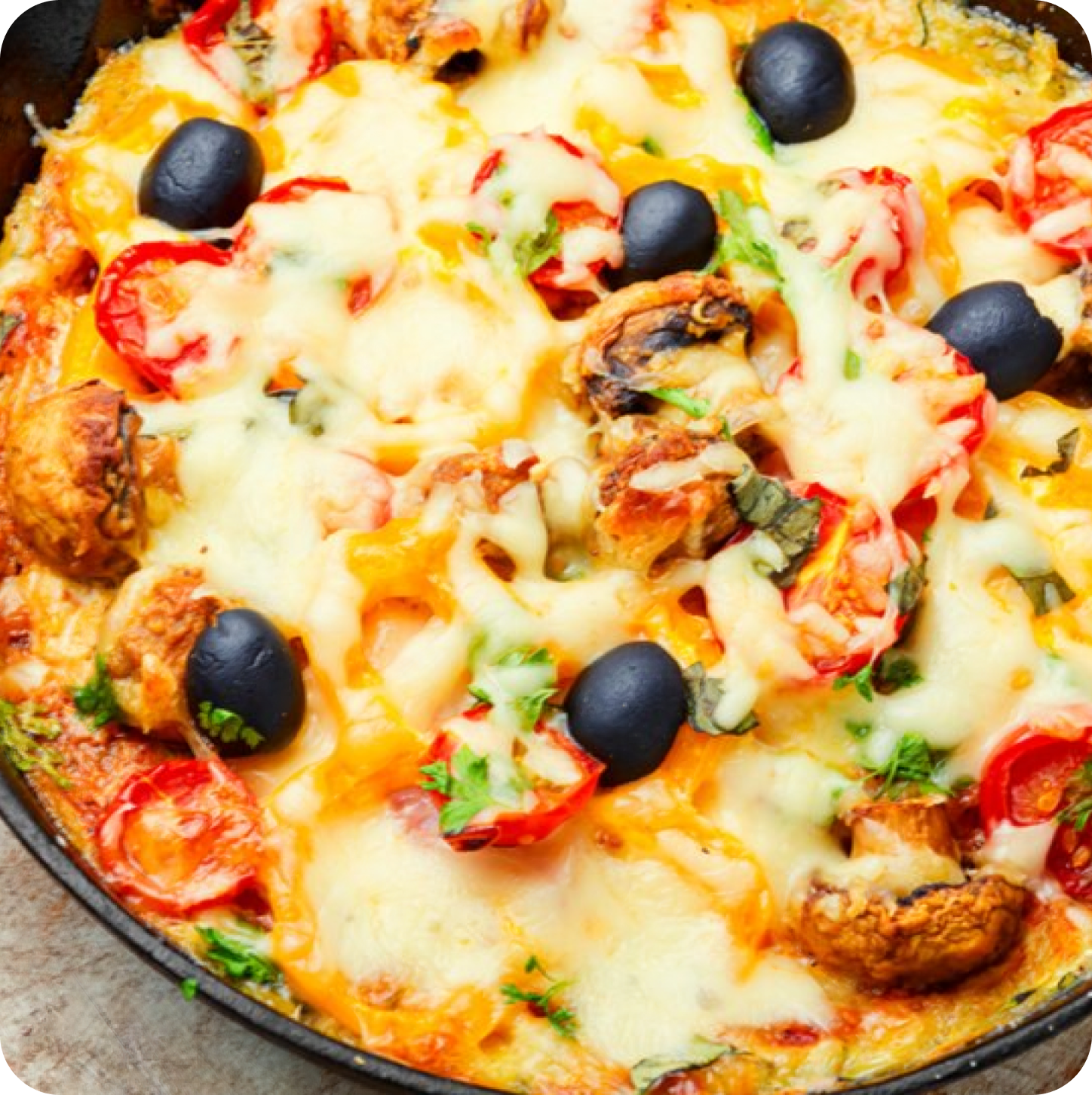 This delicious Frittata is inspired by classic pizza flavors! Enjoy the fresh flavors of bell peppers, mushrooms, garlic, olives, tomatoes, and Italian cheeses in this hearty breakfast fare. If you're not a vegetarian, feel free to add some ham or sausage for added flavor and protein.
Ingredients:
8 eggs
salt and pepper, to taste
2 tbsp olive oil (substitute butter, ghee, avocado or coconut oil), divided
1/3 cup bell peppers, diced (any colors)
1/2 cup mushrooms, sliced or chopped
1 garlic cloves, minced
1/4 tsp Italian Seasoning
2 tbsp low carb marinara sauce
2 tbsp grated parmesan cheese, divided
2/3 cup shredded mozzarella cheese, divided
5 cherry or grape tomatoes, halved
6 olives
Optional add-ins:
fresh parsley, for garnish
Directions:
Preheat your oven to 400°F.
Add the eggs to a bowl, season with salt and pepper, and whisk until fluffy.
Heat 1 tbsp olive oil in an oven-safe skillet, preferably cast iron, over medium heat. Once hot, add the peppers and mushrooms and saute for 2-3 minutes. Add the garlic and Italian seasoning and saute another 30-60 seconds. Remove the veggies to a bowl and set aside.
In the same skillet, heat the remaining tbsp of oil. Once hot, add the eggs and cook for about a minute or two over medium heat. Carefully, transfer the skillet to the oven, be sure to use an oven mitt, and bake for about 10 minutes or until the eggs are almost fully cooked.
Carefully remove the skillet from the oven, spread a thin layer of marinara sauce over the eggs. Sprinkle with 1 tbsp parmesan and ⅓ cup mozzarella cheeses. Then, sprinkle the sauteed veggies over the cheese. Add the olives and tomatoes. Lastly, sprinkle with the remaining 1 tbsp parmesan and ⅓ cup mozzarella. Return the skillet to the oven, make sure to use oven mitts. Bake for 5-10 minutes or until the cheese is melted and the eggs are fully cooked.
Garnish the frittata with fresh parsley before slicing and enjoy!
Tips:
Feel free to customize this recipe with other veggies, such as spinach, onions, or broccoli.
If you like, add some meat, such as Italian sausage, ground beef, ham, or pepperoni for added protein.
Cook Time: 25 min
Servings: 4
Macros: Fat: 24.3g | Protein: 18.3g | Net Carbs: 3.1g | Fiber: 0.9g | Sugar Alcohols: 0g | Calories: 311