Free Chicken and Zoodles Alfredo Recipe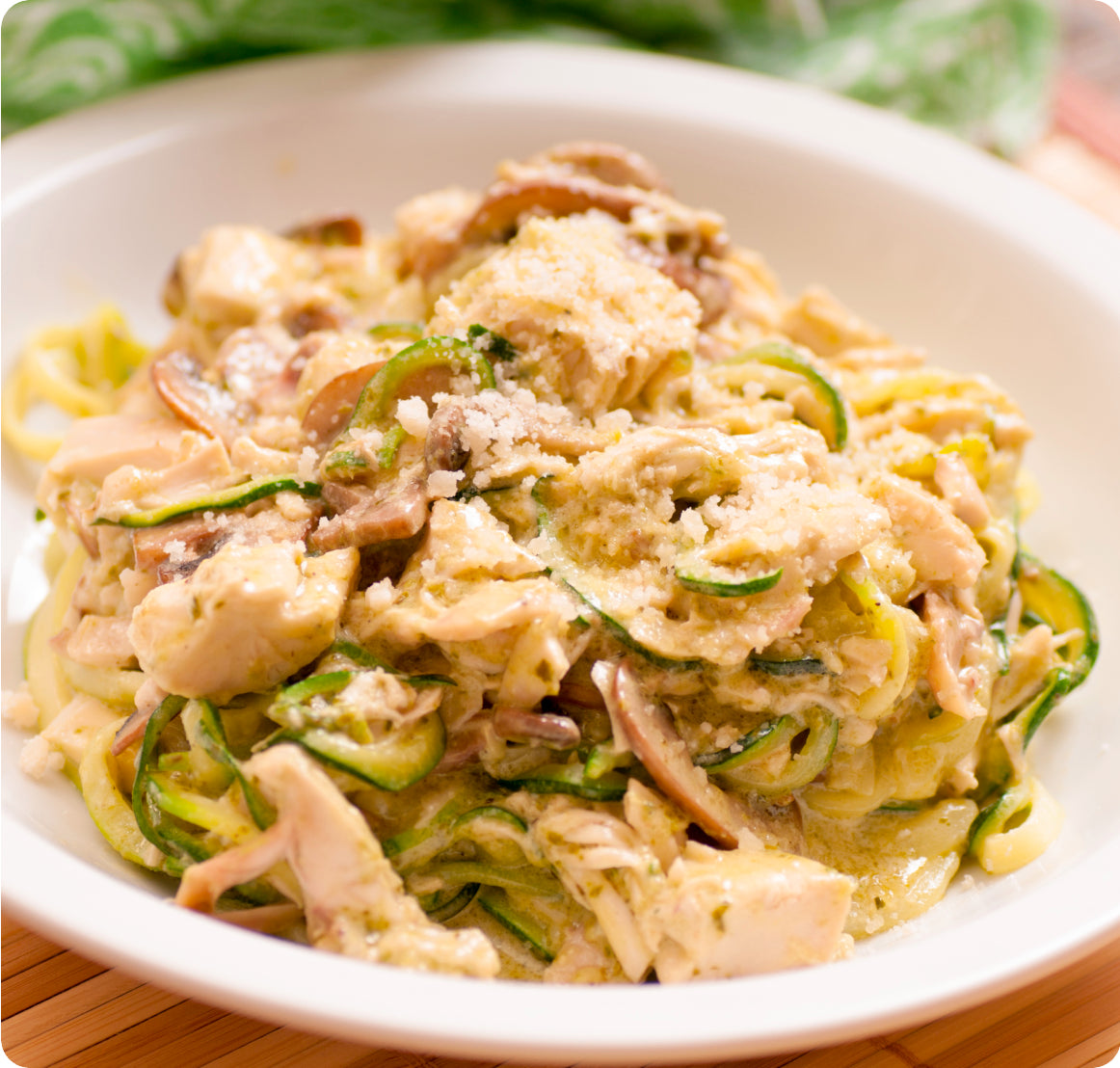 Enjoy these creamy and indulgent zoodles with chicken and alfredo sauce for a filling keto-friendly meal. You'll feel like you're dining out at your favorite Italian restaurant while enjoying this keto twist on a classic!
Ingredients:
1 tbsp olive oil
8 oz chicken breast, chopped into bite-sized pieces
1 tsp Italian seasoning
salt and pepper, to taste
1 tbsp butter
1 clove garlic, minced
1 cup baby portobello mushrooms, thinly sliced (optional)
1 oz cream cheese
1/2 cup heavy whipping cream
1/3 cup parmesan cheese, freshly grated
2 medium zucchini, spiralized
2 tbsp water
Directions:
Heat olive oil in a large skillet over medium-high heat. Season the chicken with salt, pepper, and Italian seasoning and sauté until cooked through and golden brown, about 5 minutes. Remove the chicken and set aside.
To the same skillet, add the butter, garlic, and mushrooms and sauté for about 3 minutes. Remove the veggies and set aside with the chicken.
Add the cream cheese and heavy cream to the skillet and whisk until the cream cheese has melted and the sauce comes to a simmer. Simmer for about a minute to allow the sauce to thicken a bit.
Remove the sauce from the heat, and whisk in parmesan cheese, salt, and pepper until smooth and creamy. Keep the sauce warm over low heat.
Add the zucchini noodles to a microwave-safe bowl. Add 2 tbsp water, cover the bowl with a damp paper towel, and microwave for about 3 minutes. Drain the liquid from the zoodles and add them to the skillet with the sauce. Add the chicken and toss everything to coat with the sauce.
Plate and serve with extra parmesan cheese, if desired.
Tips:
Feel free to add or sub other sautéed veggies, such as bell peppers or broccoli.
You can substitute zucchini noodles with shirataki or hearts of palm noodles if you prefer. We recommend rinsing and sautéing them in some olive oil rather than microwaving them.
Prep Time: 5 minutes
Cook Time: 25 minutes
Servings: 2
Macros: Fat: 49.5 | Total Carbs: 4g | Fiber: 0.5g | Sugar Alcohols: 0g | Net Carbs: 3.5g | Protein: 45g | Calories: 645